---
News
About
Tattoos
Art
Contact
Store
---
The Return to my Ol' Kentucky Home
Hello friends! It's been almost four years since I made the pilgrimage to New England to work with Off the Map Tattoo. Since that time I've made amazing friendships, created some of the most inventive tattoos and designs of my now 14 year career, and traveled to breathtaking locations all over the globe. It's been an amazing and inspiring journey to say the least. However, something has been missing…. Something has been calling me to make a change. That something has been the place I call home, the great state of Kentucky and the family I left behind.
As of April 2016 (exactly four years after arriving in Massachusetts) I will be relocating once again. My wife and I will be returning to Lexington, Kentucky to be closer to our growing and ever changing families and to pursue opening my own tattoo and design studio. My time spent with the people of Off the Map has taught me so much. Not only how to be a better artist, but a better business man and all around better person. I'm truly grateful for the opportunities this trip has granted me. I've worked in collaboration with Off the Map to set up a series of return guest spots every other month for the rest of the 2016 calendar year. Anyone who has ongoing tattoo work will have priority in booking these dates and others who would like to start new projects will have a chance to book in as well. We have done the best we can to schedule these dates in reasonable distances apart so that tattoo clients can easily plan out there tattoo sessions and not feel like they are waiting a long time to finish a project.
In addition to the dates at Off the Map I will continue to support the network of shops that I've worked with over the past few years. I have a few short but regular appearances with friends at Ink and Dagger, Georgia.
In Ohio I will be working with the talented crew of Red Tree Tattoo.
I will (finally) begin collaborating with Voluta Tattoo, Indiana and while home in Kentucky I will be booking appointments at Charmed Life Tattoo until I open my own place in Louisville, KY 2017.
As many of you know, being an independent artist has been a dream of mine for a very long time and at last this dream is becoming a reality. To all of my clients and fans, from the bottom of my heart, thank you for all of your support! You make my world great!
Geometric Head Tattoo
Got some great healed photos of this mandala inspired head tattoo! These pieces are definitely a headache (HA!) but so much fun to do. I love the challenge of making such a bold placement feel natural on the person. I hope to do more of these in the future.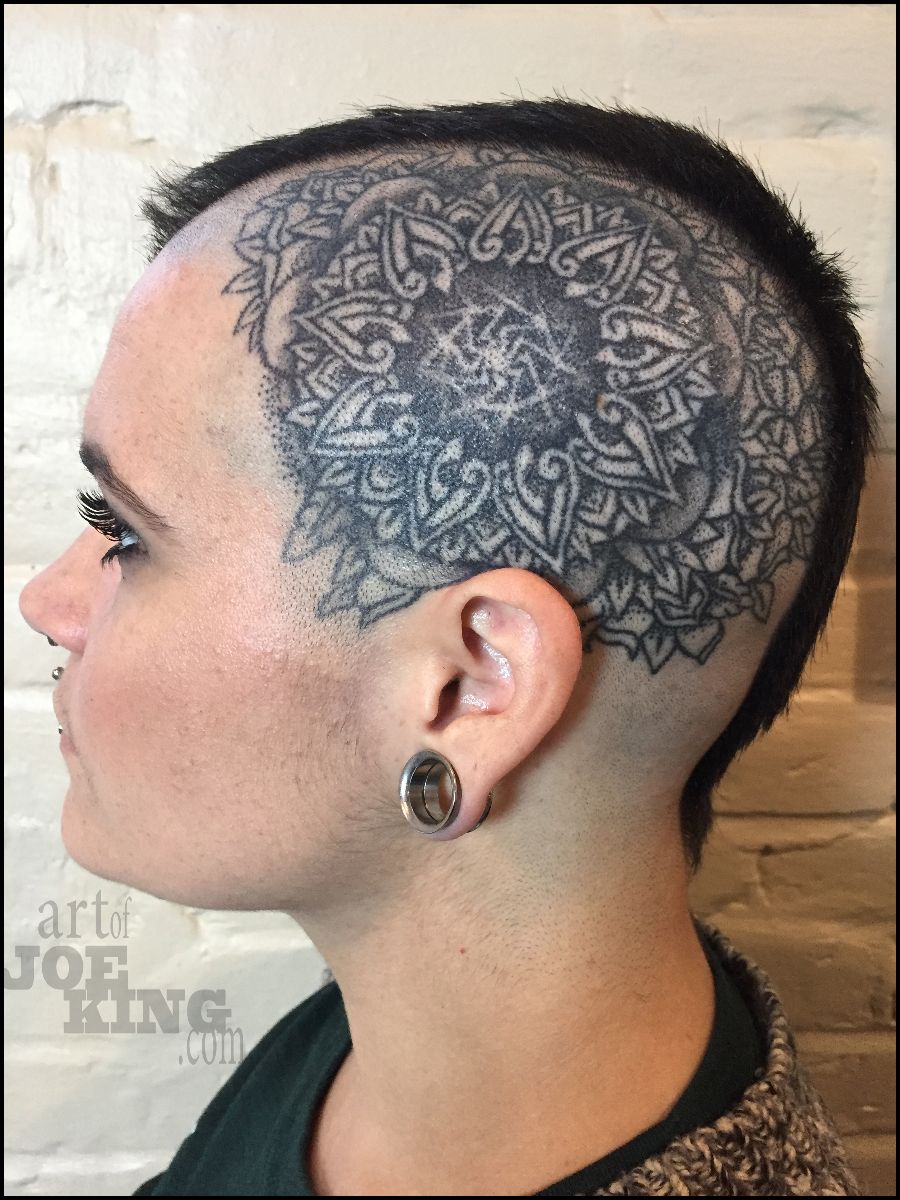 Nature Tattoos
I had a great time working on this piece. Nature themes are one of my favorite subject matter to tattoo. There is always a timelessness to the imagery that really appeals to me on a lot of levels. This design was built off of a design my client found (artist unknown) and wanted to rearrange to suit her individual needs.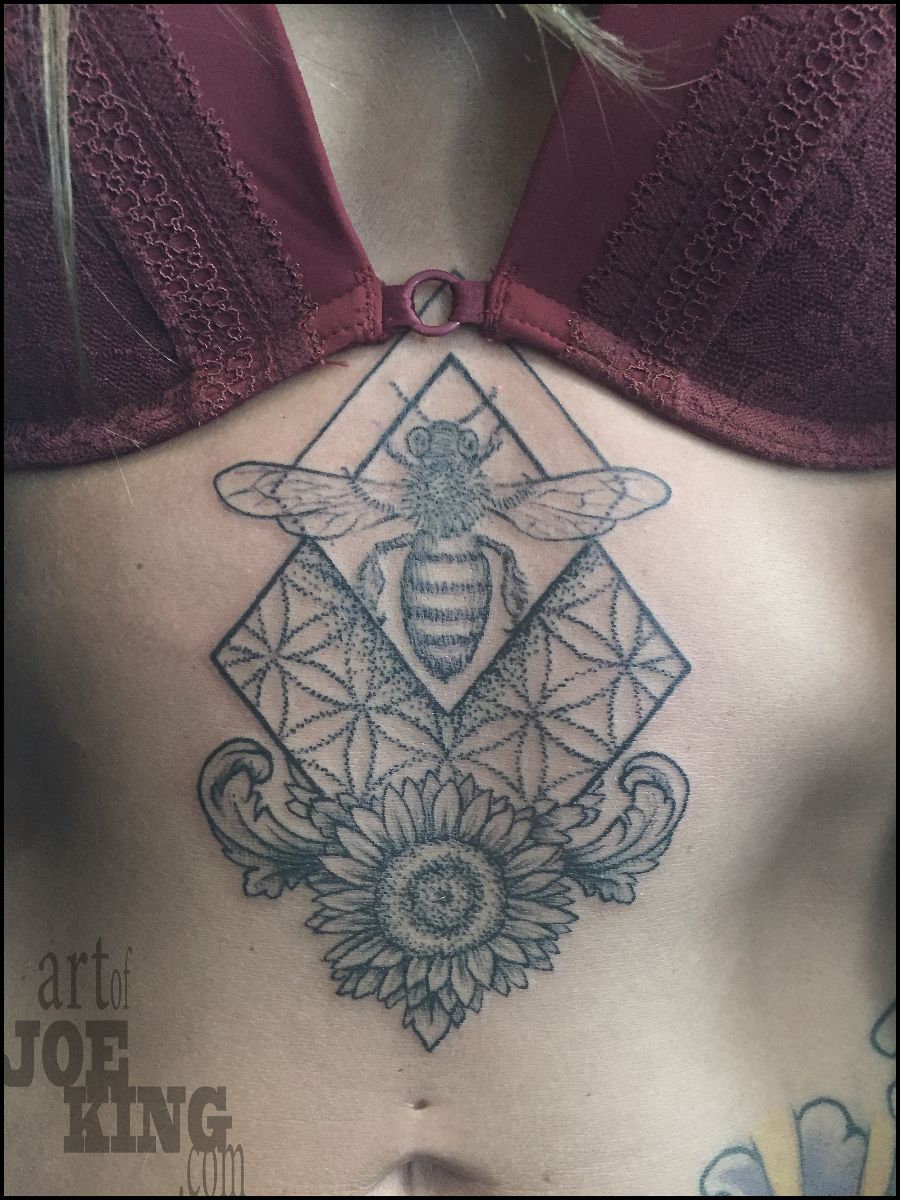 Tattoo Process Webinar
I've updated the ABOUT section of the site and it know features an extensive layout of what to expect when getting tattooed by me. I've also been pecking away at new originals and recruiting new artists to add to the FORTDOOM COLLECTIVE hopefully just in time for the holiday season.
For all you young tattooers out there I'll be filming my first webinar on my tattoo process and physical techniques used in my designs later this month. Viewers will be able to participate in a live chat and will receive a discounted rate on the expanded downloadable release next year.The expansion pack will demonstrate a variety of design processes geared toward making your work day go smoother and your tattooing more efficient. Check back to tattoonow.com for official dates and ticket release.
The Autumnal Mask of the Forest Spirit
I've got some new original Ink and Marker illustrations up in the store!
NEW TATTOO PHOTOS!
Hey everybody! If you havn't checked out the tattoo gallery in a while take a moment to check out the new additions.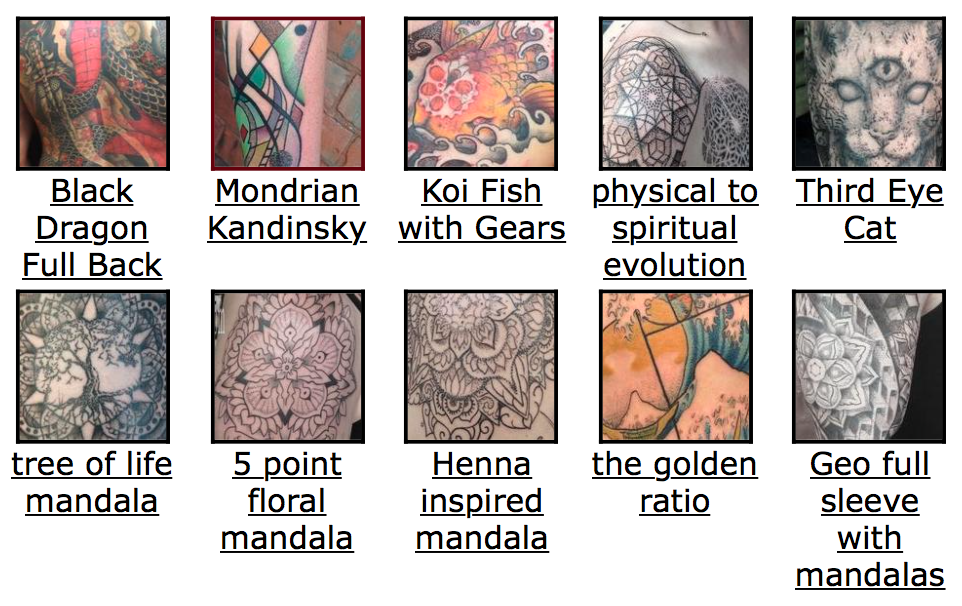 Mandala with a Gear Center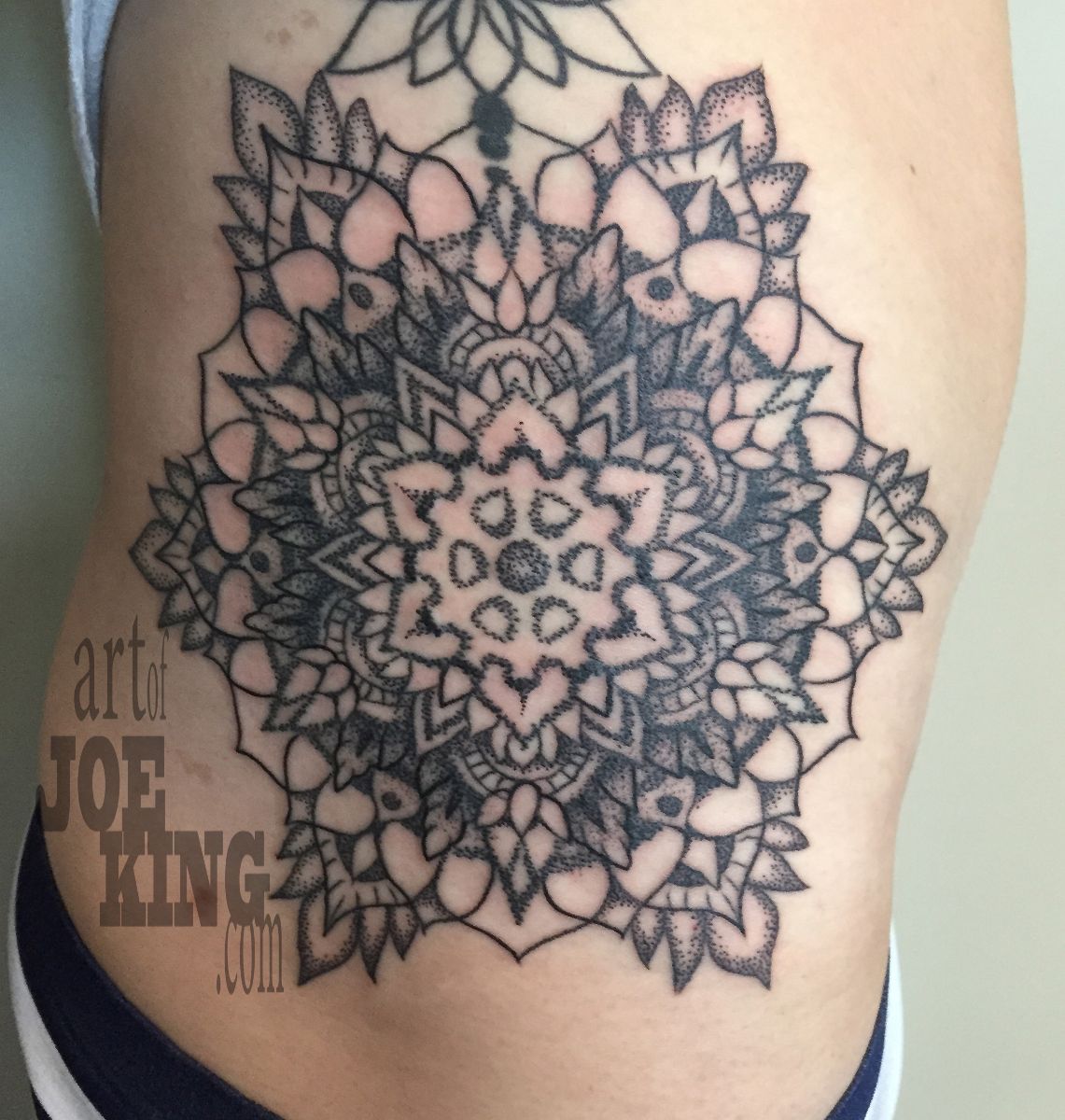 I got started on a new ongoing large geometric tattoo the other day. This piece is tying into a preexisting rib piece and will trail down the hip and leg as we add more elements. I love how stage one came out and wanted to share.
New Art Print in the Store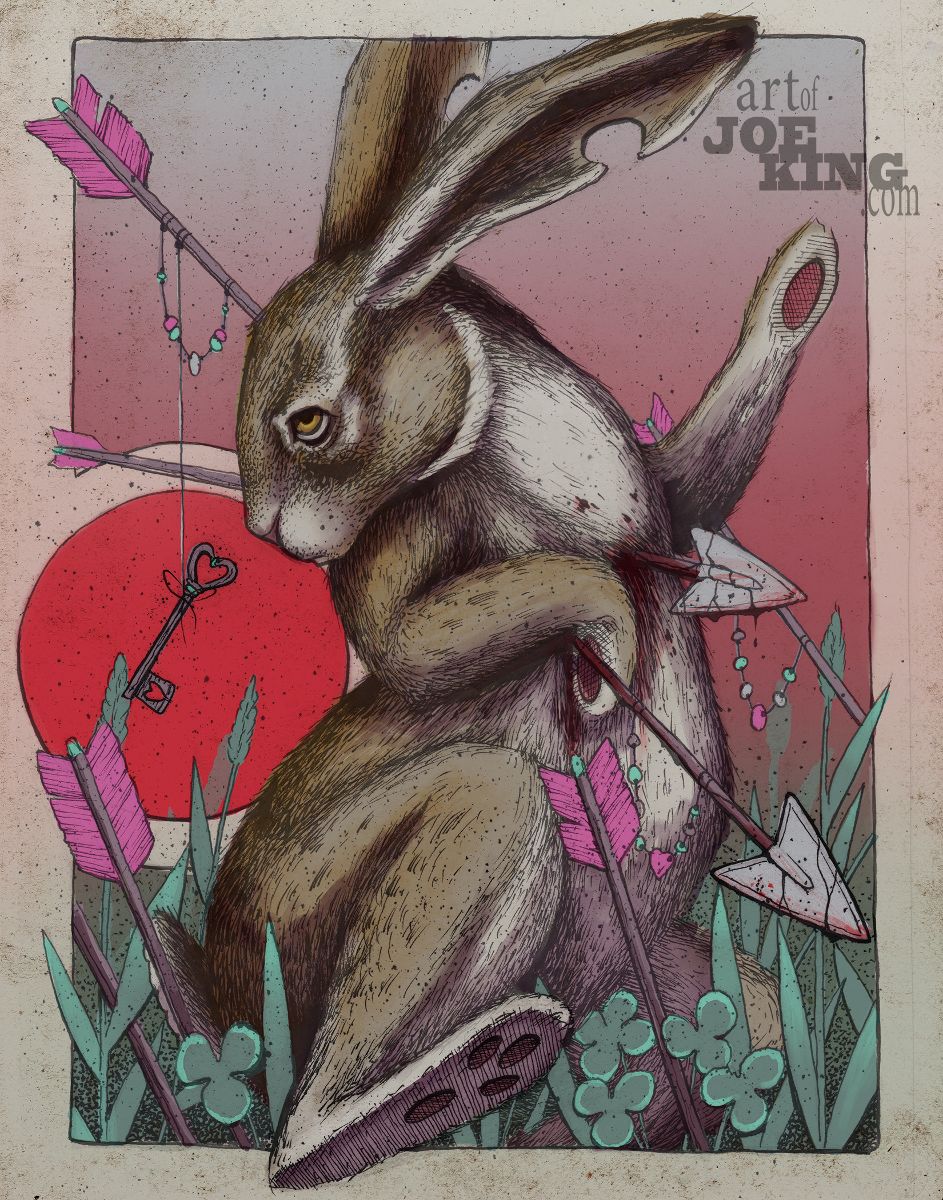 Check out this art print titled "Cross My Heart" now available in the webstore!
I really loved working on this design. At the time a close friend was dealing with some very heavy heart break, loss, and drastic life change and it reminded me of times in my own walk through life. I remembered that feeling that something beautiful and innocent had been senselessly massacred.... However, the death of the rabbit goes on to feed and strengthen the village. From destruction new life is born.
Ink on paper
digital color
printed on archival cold press paper
11x14in.
mandala head tattoo
Here's a little tattoo process video for all you people that are curious of what a head tattoo would be like
A Dog Named Jewel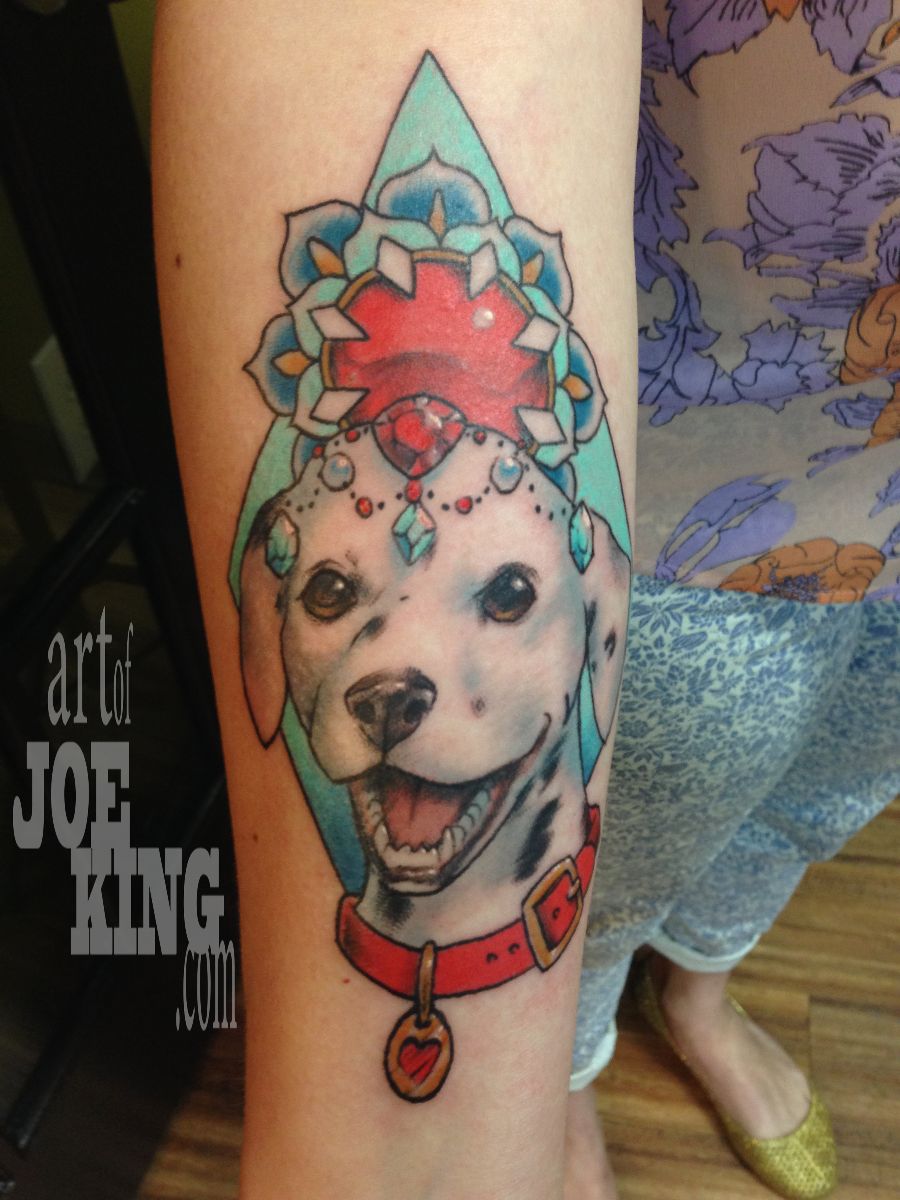 I was apparently incapable of taking a picture that wasn't blurry the day I did this pet tribute tattoo, but it was soooo much fun that I wanted to share anyway. I love the colors and composition on this piece! I think this is the first time I've drawn/tattooed a dalmatian. Solid challenge!
Thanks for looking!
NEW WEBSTORE IS LIVE!!!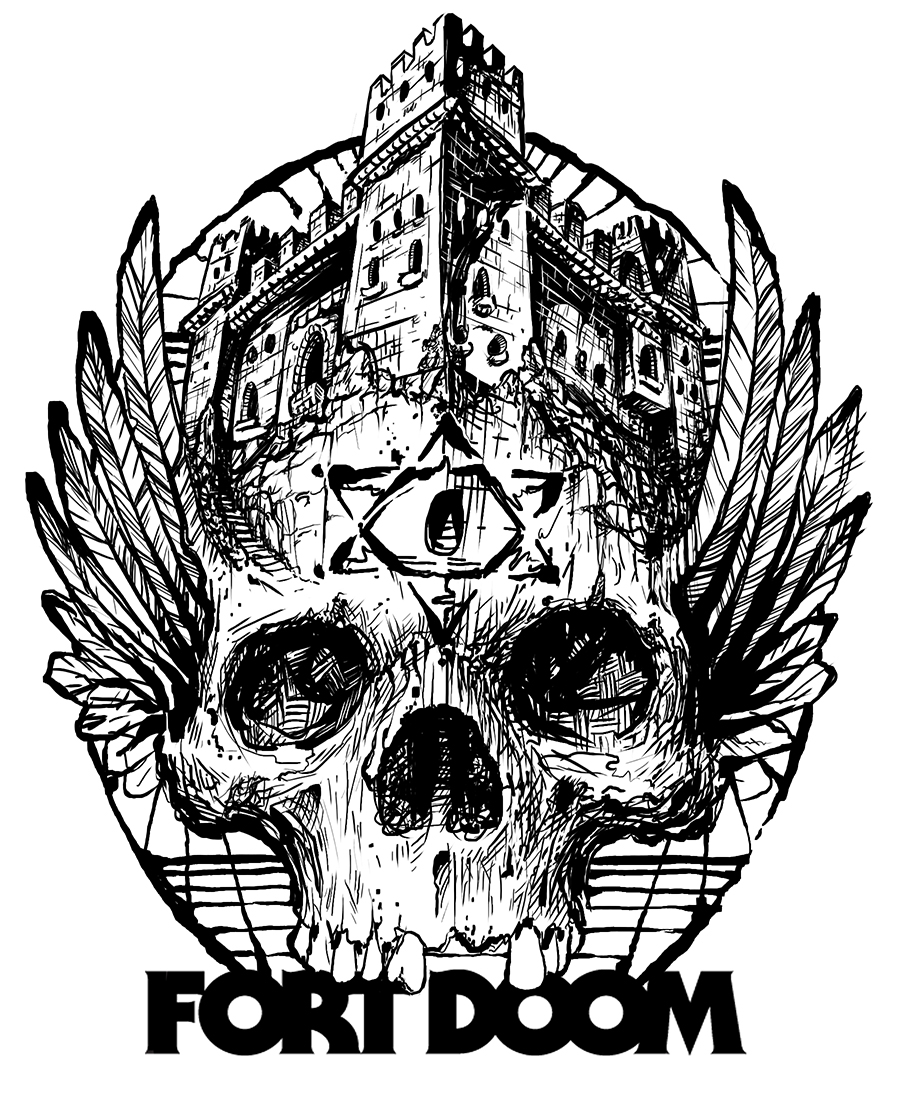 Hey there everybody! I've put in some serious hours on a new webstore and I'm so pleased with the result. Head over to FORTDOOM.COM to purchase original art, Limited and rare prints, and soon many other fun trinkets and artsy materials from me, Carrie South, and Frank Ready!
for the love of shapes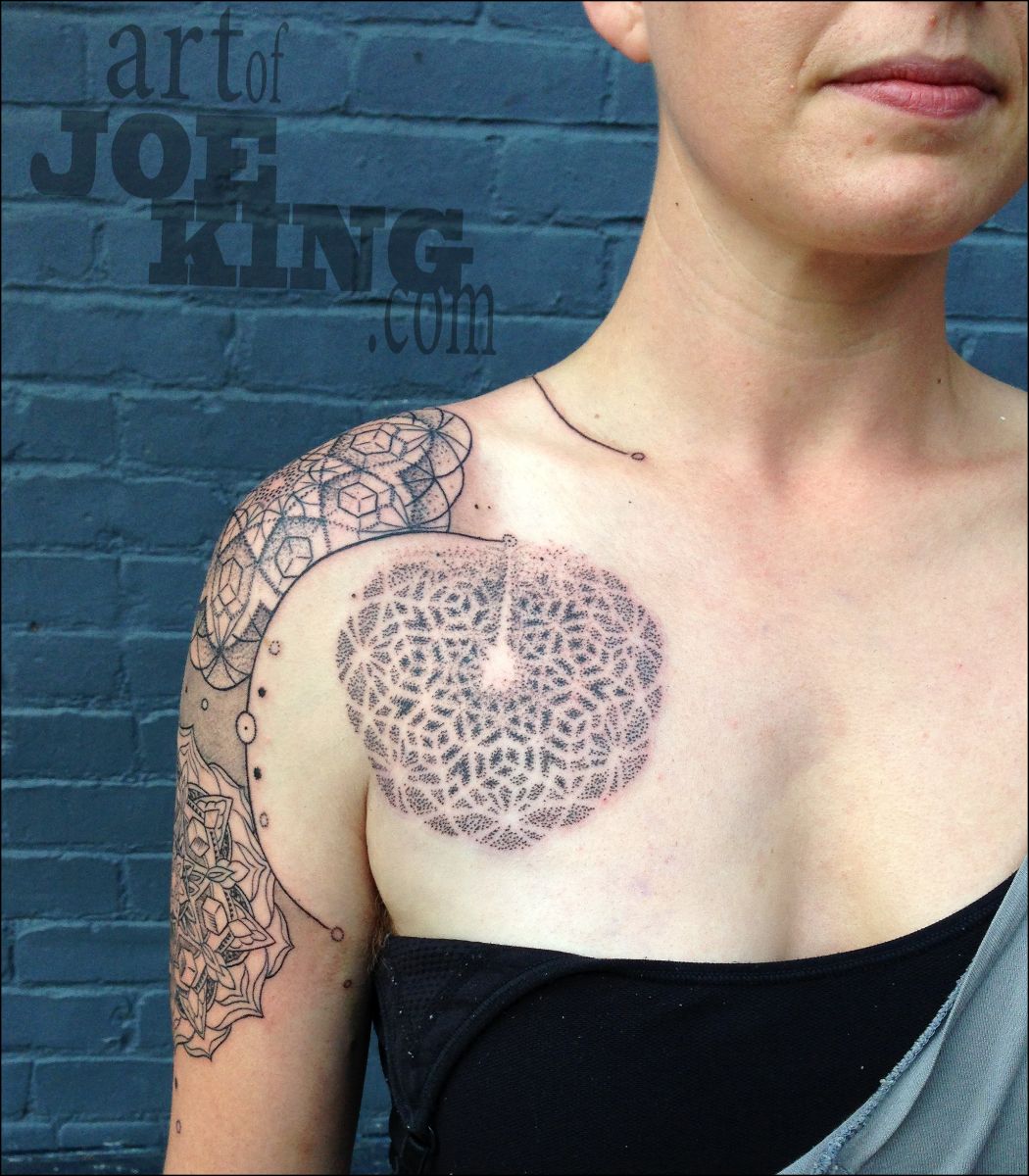 I love the front view of this geometric tattoo I did while traveling through Lexington Kentucky. Large black work tattoo styles like this one are my favorite!
New Hand Tattoo
Hey everybody!
Check out this sweet Cthulhu hand tattoo I got to do when I was visiting Nashville a while back.
Dave's an old friend and a long time client so he let me run wild with how to lay it out. I'm really happy with color scheme and the integration of the occultish finger symbols.
Loads of fun!
So many things...
The last six months have been a whirlwind of activity! So much so that I found it necessary to downsize my workload, cutting back the webstore, blog, and prints just to stay mentally sharp and focused. Now on the other side of the chaotic close of 2014 I feel I've grown to a new platform of possibilities so I want to take a moment to thank my wonderful clients who have given me the opportunity to take my art to new heights. Without you I'm just a guy drawing pictures. Thank you not only for your support but more importantly, thank you for your trust.
Currently I am setting up travel dates for the year ahead, aside from appearances at the Paradise Artist Retreat and the Motor City Tattoo Expo's 20 year anniversary show I'm planning an Appalachian tour the month of July from Connecticut to Georgia with my good friend and coworker Mr. Frank Ready! A soon as exact dates are finalized I'll announce them through the usual channels.
So many amazing things.... More info around the bend.
Floral Tattoos Usher in the Summer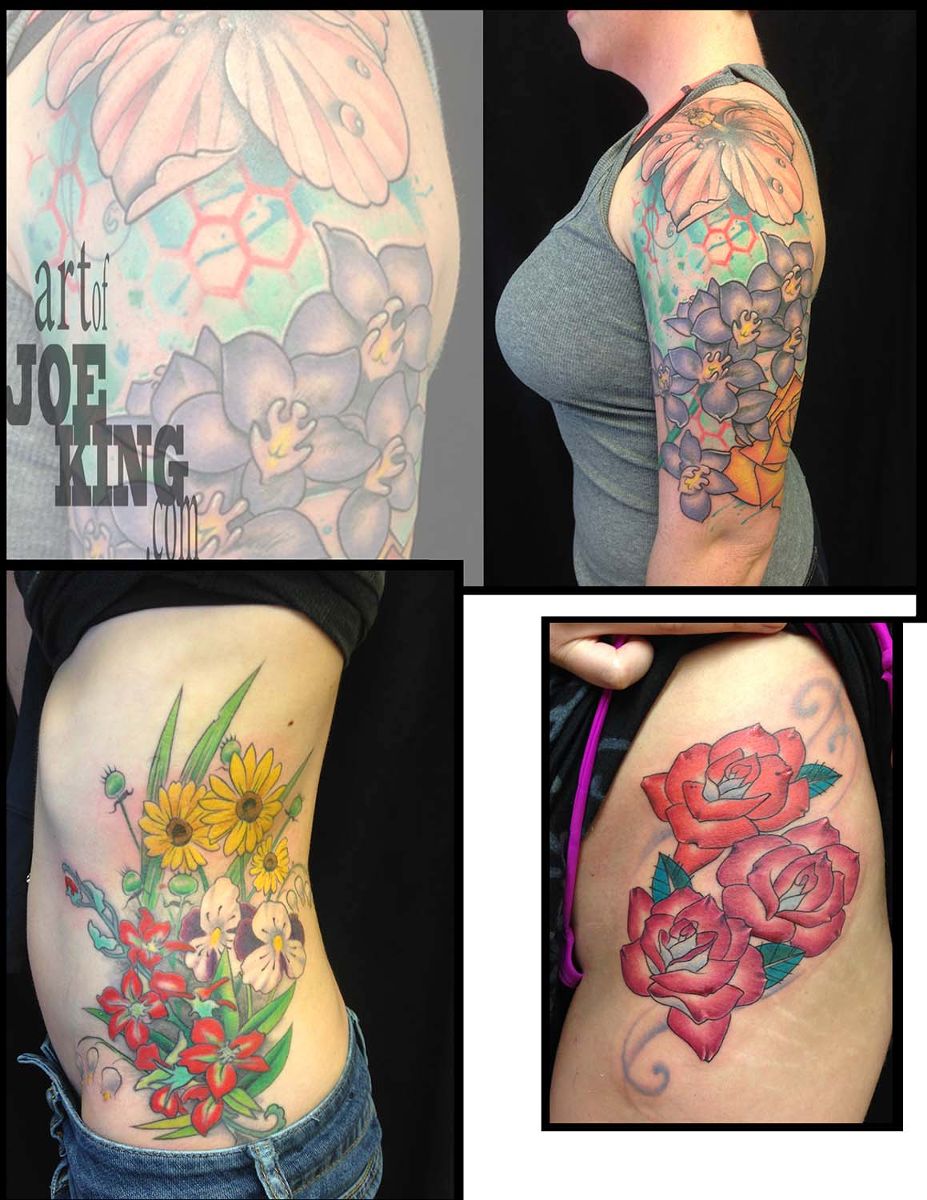 Now that New England is finally immersed in sunshine and warmer weather my appointments have been filled with flowers and the colors of summer. Here are a couple pieces I've worked on this week.
At the top we have a half sleeve displaying a variety of the collectors favorite flowers
placed on a high contrast abstract background.
All the flowers on her arm were done at different times over the course of two years.
I love how the background enhances the flowers color without distracting from the foreground.

For the two tattoos below my clients wanted something more strait forward in the composition but gave me freedom in color choice and placement. I decided to do very bold or flat color with high contrast so the flowers would appear bright and vibrant
The rib piece at bottom left was done in two sittings and the roses on the right were a single sitting.
I could honestly do flower tattoos forever, keep em' coming!
to set up a consult for your flower tattoo
simply fill out the contact for HERE
More Dots Between the Lines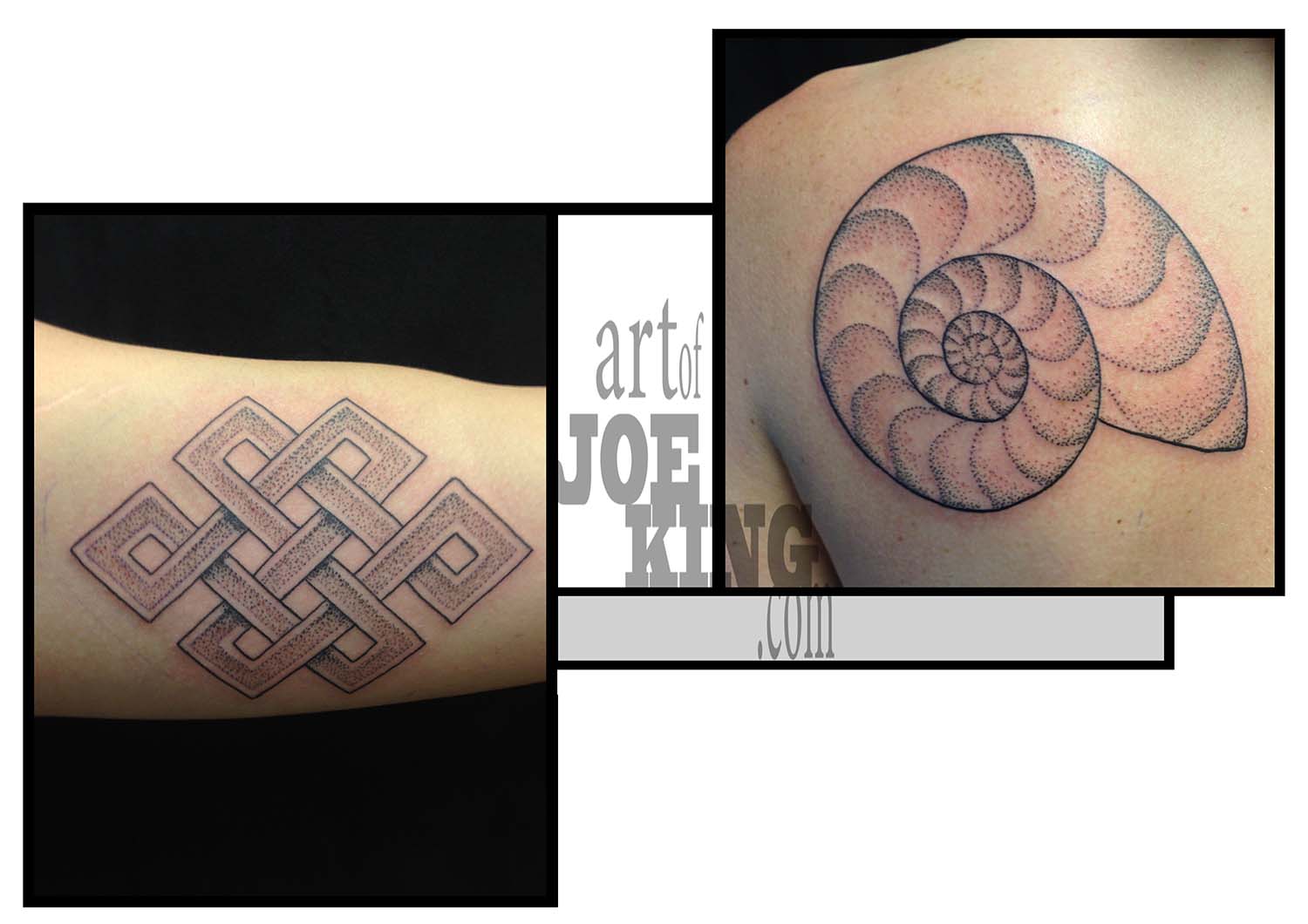 Couple small tattoos from last week.
On the left is a Tibetan Infinity knot on an inner arm and to the right, a cross section of a Nautilus shell.
I had a great time working on these! Simple, clean, and timeless.
Dots, Lines, and In Between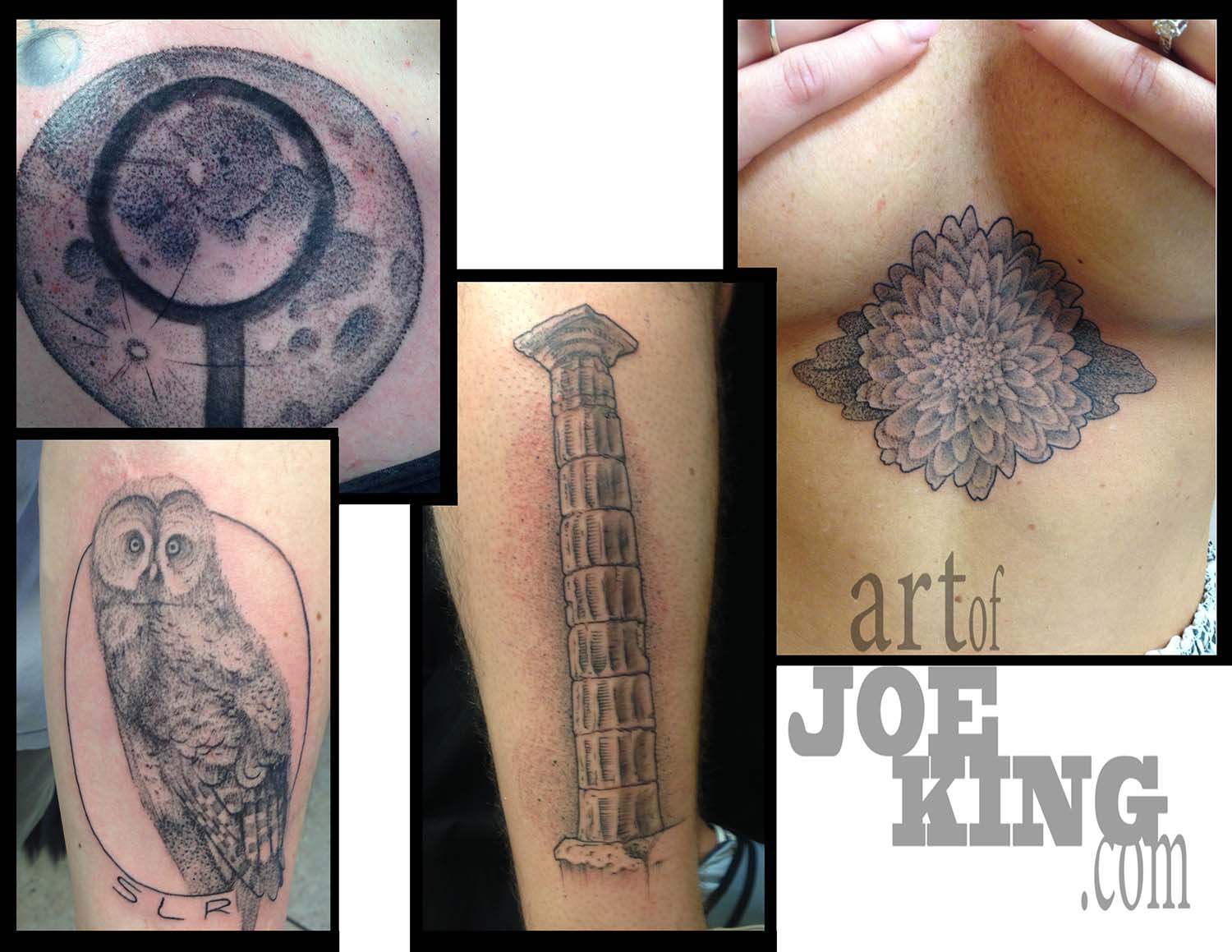 For awhile now I've been exploring various illustration styles that you would normally see in pen and ink work in my tattooing
and I'm loving the look and feel of this new approach. Above are a few smaller tattoos I've done recently in this style.
I've got a lot of ideas on incorporating these techniques in large scale color work as well.
If these images tickle your fancy then please click on over to my CONTACT form and message me your ideas!
Into the Unknown: the quest of the seeker
Archetype
: the original pattern or model of which all things of the same type are representations or copies
: a perfect example
currently I am the seeker... The world needs heros, leaders, protectors, and guides... I will find them.
thanks for the continued support friends! Your smiles give me strength for the road ahead.
The Great Outdoors: tattooing nature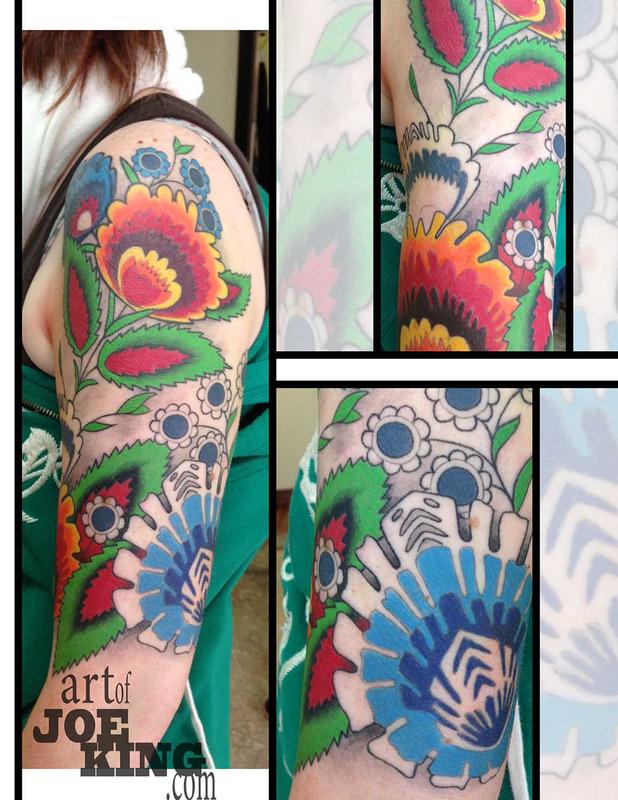 timeless
- an adjective meaning to be unaffected by the passage of time or changes in fashion.
As a tattooer, creating imagery that is considered timeless is of the utmost importance to me. Both in the execution of the tattoo and the subject matter used to illustrate the idea. I want my clients and the viewers of the work to always look fondly on what I've made. So, as far as subject matter goes, I feel like I'm most successful at creating timeless art when portraying images of nature. Flowers, leaves, trees... whatever. These images seem to have the ability to make the wearer feel more connected to the natural world and that's a beautiful thing! Yesterday, I got the opportunity to re-work an older tattoo of a couple flowers and expand it into a bouquet of wild flowers. Today, I'll get to tattoo some chrysanthemums... Not only will they carry those flowers with them for the rest of their lives, but they will always be in bloom and every glance will bring back that moment of springtime. The sun was shining, and the sky was blue.
Have a great day everyone!
UPDATES: new tattoos and NYC
I've got a handful of new tattoo photos in the gallery and more on the way!
The newer work is definitely a solid representation of what direction I've been trying to head so it thrills me
to share the fruits of this labor.

Today I'll be starting a large abstract flower tattoo for Jennifer. Aside from the usual drips, smears, and splats this tattoo will have some geometric elements that I believe are going to take the design to a whole new level. Can't wait to show what we come up with!
Also, the Empire State Convention that I 'll be working in the Waterloo booth is just around the corner! If your interested in getting tattooed at this show you can contact me HERE currently I still have availability Saturday and Sunday.
The King is Back!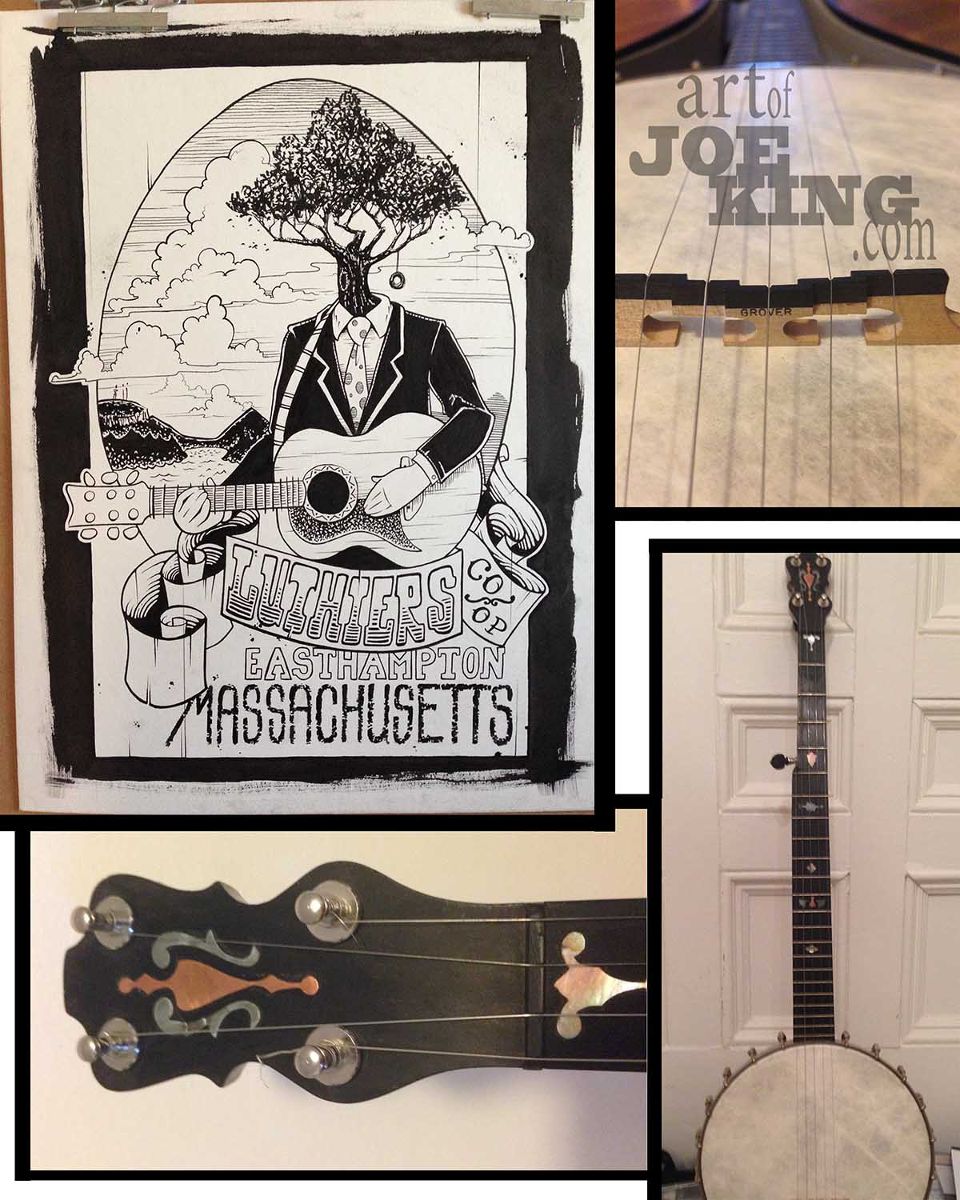 The silence has ended!
Here is the final draft of the artwork for the Luthier's Co-Op.
I'm really happy with how this piece came out and even happier with the payment ,
this beautiful 1890's banjo! This, among a couple other things, has been the reason for my digital distance.
I've always loved the banjo but had never played so I had to disconnect for a little bit to keep focus
and get the brain processing new information.
However I'm getting better everyday and feel confident enough to relax my attention and get the blog back on track.
Aside from resurrecting my inner country boy a lot of things have been happening, from successes to failures to upgrades and down sizes, but I'll leave those topics for other days....
for now, it's good to be back on track!

...in the silence, something stirs...
meta·mor·pho·sis

: a major change in the appearance or character of someone or something
biology : a major change in the form or structure of some animals or insects
that happens as the animal or insect becomes an adult
...
The Drawing Board: studio time lapse
In this video I'm seen adding a unifying background to my two pen and ink illustrations "ABOVE" and "BELOW". From here these two will get a final pass of fine tuning and then sent off to the framer for their union as one piece. Once framed and renamed I'll be sending these to Connecticut for display in FTS Gallery's two year anniversary show.

As for the video itself I'm really happy about this one. I've been learning Adobe Premiere to upgrade production quality and new Ritual Art team member Phil pitched in additional camera angles and editing suggestions. These changes definitely add more time to the overall process but, the result is absolutely worth every minute.

Music for this video has been provided by a very talented friend of mine Dave, who I've been tattooing for many years. Dave has always been open to my suggestion in his tattoos and has always encouraged me artistically to be my own artist, so it's with great pleasure that I share his music with you the fans.

You can hear more of Exempt on ReverbNation or on Facebook.
The Road: visiting graceland
This just in ladies and gents! It looks like I'll be adding yet another travel date to the roster for this august when I'll be revisiting New York at my friend Adam Lauricella's shop; Graceland Tattoo in Wappingers Falls. We still have to pick the exact dates so stay tuned for an update in a couple days. Aside from the tattoo stay Adam and I have begun talks of a special collaboration as well! However the details of that adventure will remain secret until the scheming has ended and the stage is set....
Tattoo Titans: Aaron Della Vedova
I just watched this very consciously aware interview with Aaron Della Vedova of Guru Tattoo and had to share. Aaron is a huge inspiration for me artistically so listening to this chat with Off the Map Live's Ben Licata has been the perfect way to start the day as now I can call Mr. Della Vedova a spiritual inspiration as well. Thanks for your hard work Aaron!
Also in this video you'll find a little cameo from yours truly! Thanks for including me Ben!
The Color of Spring: tattooing flowers with an abstract twist
Excitement rolls through me as day after day I watch the last of the snow on Mt. Tom retreat to the radiance of spring. Soon the flowers will make their triumphant return to the streets and yards and fields of Easthampton and once again we will be fully awakened from the icy haze of winter. And so, it seems as if Dena's appointment has been perfectly timed since today we finish her half sleeve of flowers started last spring. As of yet she has assembled a nice collection of her favorite flowers and I'll be tying it all together with an abstract background.
I've been really enjoying the vibe of abstraction in tattoos as of late. Whether it's the watercolor effect, adding in non-objective geometric shapes or patterns as design elements, or literally tattooing fully abstract shape and color I feel good about how striking these techniques can make a basic tattoo idea look. For me these things bring an excitement and energy to an image in ways that other styles rarely achieve. Best of all abstraction is extremely diverse and works well paired with realism, traditional, illustrative, and is even ideal for most cover-up situations. If it isn't obvious by my enthusiasm alone, I plan to include some form of abstract tattooing in most of my work from here on out.

Then tonight a large room of smiling faces and I will dance away the rest of our winter blues and celebrate spring to some island jams as the Easy Star All Stars perform their tribute to pink floyd with "Dub Side of the Moon"! If your in the Boston/Cambridge area and love reggae then this show is not to be missed! Hope to see you out friends!
WORD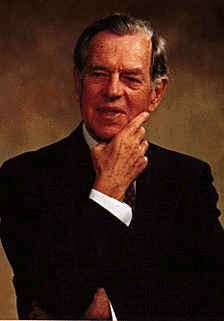 "If you go to a master to study and learn the techniques,
you diligently follow all the instructions the master puts upon you.
But then comes the time for using the rules in your own way and not being bound by them....
You can actually forget the rules because they have been assimilated.
You are an artist.
Your own innocence now is of one who has become an artist, who has been,
as it were, transmuted....
You can't have creativity unless you leave behind the bounded, the fixed, all the rules."
UPDATES: the Ritual Crew and New Illustration Work
After what has seemed like ages of talks, plans, hand shakes, and old fashioned elbow grease the expansion of Ritual Art/ARTofJOEKING.com is nearly complete! I have a couple tasks to finish before I do an official introduction to the team but all the boring work seems to be behind us for now. The first round of meetings with the Ritual Crew has left me extremely excited for the future of the business as well as the amazing art and projects that we intend to create together. The whole experience thus far has been a surreal manifestation of my dreams and I am so grateful to have the support of you the fans to make it all possible... it's spectacular. Thank you!
Today I'll be putting the finishing touches on a piece I've been working on for the Luthiers Co-Op located next door to Off the Map in jolly ol' Easthampton Ma. Luthiers Is definitely one of my all time favorite places to be. Not only do they buy, sell, restore, and repair vintage stringed instruments and tube amps Luthiers is also a bar and music venue featuring microbrews on tap and live local entertainment almost every night with zero cover charge. I am so thrilled to do business with such a great group of people and I can't wait to share the new imagery that we've come up with!

Things are good friends! Spring is in the air....
Small Ideas With BIG Results: the benefits of thumbnail sketches
Today marks the beginning of a transformation. Wilson has come to me to receive a full backpiece of a Japanese inspired dragon with maple leaves. Aside from the obvious reason to be excited about this kind of project the first session is extra thrilling because of the exploration of the layout and the unfolding of the yet unseen tattoo design. For a while now, i've been drawing about 80% of my work directly on the skin, large scale tattooing especially. With the exception of geometric work. I do my best to leave all compositions and layout ideas as just thumbnail sketches. Thumbnails being no larger than around 5 inches and totally devoid of all details. They show the major forms of an image as well as how they will move across the body. For the client, these quick sketches act as tools to better explain my ideas and a foundation for them to build their ideas off of. Because each drawing is simple and created quickly, I'm able to detach from my ideas easier and hear my clients requests clearer. To me that is the most important aspect of using thumbnail sketches for large compositions. A backpiece comp. can take hours just to get proportions in place correctly, so if I do these drawings on paper, locked away in my studio without my client present, it becomes easy for me to lose track of the tattoo collectors vision/requests. Once I've discussed and shown my suggestions to Wilson as thumbnails however, we will be able to make any changes or additions in a matter of only minutes and we can then come to a common ground on what we BOTH think is best for his design.
From here I begin to draw the composition directly on the skin ensuring that every line conforms and curves to his exact shape. This process also allows me to stay open to improvements and alterations that I might have missed if I were using a stencil. The ability, for example, to have the client move to various positions, gives certainty that all angles of the tattoo look flattering to it's wearer in everyday life and not just when posing for a photo. After the composition is complete the client and I will AGAIN review the overall design and once approved, we officially will start the long journey ahead.
I've explored many processes and practices in my 11 years of tattooing and for now I confidently say this is the one for me. It places the client first and keeps me attentive to their needs. I love being an artist with an independent vision and voice. However, as a tattooer I'm being contracted to illustrate an idea for someone who can't do so on their own. If the client wants me to do "my own thing" with their idea that's great but, if not that's okay too... I need to be ready either way.
The Struggle to Achieve...
I've spent the last two days in the studio trying to finish the newest commissioned illustration piece, listening to records, and trying to stay productive. Two days is a lot of time to spend on a drawing and normally I walk away feeling accomplished, however this drawing is in it's small detail stage, in which I could spend hours doing subtle adjustments and tightening to pre-existing strokes. At the end of these two days the image hardly shows any substantial or noticeable changes. When I'm behind on all other tasks and chores in life, this sluggish stage of drawing is frustrating to say the least. My hand and shoulder ache from the previous work week. My still un-filed taxes nag at my attention in the back of my mind. The frustration of the clients who are awaiting response to their e-mails haunts my internet, and the still broken washing machine I promised to fix is lurking in the basement sharing my inadequacies with the water heater... Suffice to say, there's so much to get done, but I just can't walk away from this drawing on my desk.
As bothersome as this stage can be, it's also the point where I can finally see the end. Now there is a finish line and within art, every finished creation is a milestone of achievement; a culmination of everything that piece taught me lives on the page. It is the new foundation for everything I will build from here on. This struggle, consistent with the theme of the month, is an exercise in patience and focus.
The universe to me, seems to be a fan of parallels... In life, just before something can be really great, the struggle to achieve that greatness increases exponentially. For example; if you're a runner, the race is always hardest at the end, for a fighter round 3 makes round 1 seem like a pillow fight, and if you're traveling the world, that last layover before making it back home can almost be enough to ruin an otherwise perfect trip.
We have to have patience that all struggles have to end and maintain our focus on the prize at the end of the line....
Tattoo Tempo: A first tattoo is born....
At long last, its NEW TIME LAPSE VIDEO DAY! This newest installment of Tattoo Tempo features Lindsey and chronicles her very first tattoo: a mandala on her stomach just under the sternum. Lindsey provided a couple of examples of the style of work she liked so I created a structure similar to those examples and then added and/or revised that structure to include common shapes from the references she provided. The result came out beautifully and Lindsey who sat like seasoned tattoo collector couldn't have been happier with her introduction into the tattooed world. Thanks so much for letting me tattoo ya Lindsey!

Also in this video is a drone recording of my amazingly talented friend and sworn brother Nicholas Larkey AKA Ghost Affirmation. Nick has, to me, been an artistic inspiration and a center for cultivating creativity and spiritual growth for many years now and it thrills me to include his audible creations along side my visuals as we used to do live in the performance art days of Ghost Aff's inception. Aside from the meditative and sometimes eerie droned sounds of Ghost Affirmation Nick is also an active member in many other bands with styles ranging from driving and thunderous stoner rock to bludgeoning black metal to rootsy bluegrass and has become a titan in the thriving music scene of Lexington KY. You can expect to hear much more from Nick in future videos and projects.

As always, I'm very grateful for the support of all my little ideas and creations. I hope you enjoy this new addition....
UPDATES: The Order of the Ritual Arts
My world is in transition. I'm getting about two steps away from finishing sooo much work then, BOOM! New things/projects/obstacles keep knocking me back. I am feeling pretty confident however that everything is in place for the new staff members to begin work next month! This expansion couldn't come at a better time, aside from the obvious benefit of helping catch up on the little things and to serve you the community that supports me better and faster, this change brings about an enormous freedom for me artistically. I've recently found a rare clarity in my personal artistic direction and, in finding that "vision" I've discovered a mountain of ideas and plans that I am burning to start work on... but I can't. These ideas are bigger than me and I need a team, so for now I wait and I work.

This month represents a challenge in patience and focus for me, and at the end there is a whole new chapter.
From now until June I have two new fine art pieces to prepare and one large illustration job
. The rest of the year will be ground work for the book....
Tribute Tattoos... with a twist!
Today I'll be starting a Princess Mononoke thigh tattoo. Normally I'm a little hesitant when taking on reproductions of other artwork because there tends to be very little wiggle room for creative suggestion. Usually if your a big enough fan of a film or cartoon or whatever, to permanently mark yourself then you want that tattoo to be spot on to the original and thats totally understandable! This tattoo however is a bit different. Adam's tattoo is inspired by a friends drawing/interpretation of the film with a neat mandala twist in the background. Now, Adam's friend did a great job but isn't a tattooer so in order to make this into a tattoo-able design quite a few changes would have to be made which means, I've been asked to do my interpretation of HIS interpretation of characters from the film. THAT is way more exciting! My client is already intrigued by the idea of someone else's vision or interpretation of the original film. This concept allows me to really have fun with these characters and gives me freedom to put my own style into Adams tattoo even though I'm reproducing someone else's character design. To me, this is the absolute best way to pay tribute to a pre-existing work of art. Due to the fact that I'm a fan of the film and because I'm familiar with director Miyazaki's body of work my client can rest assured that his tattoo will will be respectful to the original, but because Adam has given freedom and creative liberty I can work more comfortably and tattoo in the methods and styles that I tattoo best... It's gonna be a fun day!
What Makes a Hero?
In recent weeks I've heard a lot of friends and/or colleagues express awe toward a hand full of particular artists for their dedication that seems to be above and beyond that of everyone else in their artistic field. One said artist is known to wake up, run five miles, draw a full backpiece for PRACTICE during breakfast, and THEN start a full day of tattooing as many as six days a week; most nights finding time to paint as well. As the stories of these exploits are shared I watch the room as the collective jaw drops to the floor. Their faces are washed with confusion, completely bewildered of tasks that appear near godlike in the land of lowly mortals.
At this point my face washes with confusion as well, however my own confusion comes from a different place. You see, what I heard in this story is that this dude takes care of himself and is an artist that does art. When you say it like that the story starts to sound pointless. A guy taking care of himself is not a big deal to anyone except that guy. My dad is in his 50's and does the p90x every day but nobody gathers around the water cooler to share excitement for his exploits. And of course an artist does art...that's the damn definition of an artist!
If it's understood that artists do art, and if they love doing art they most likely do it a lot, why do so many professional artists do art so little? It seems like the amazement is association. All these tasks are being considered work, and work is labor, and labor is hard. So in that case sure, the story then changes to "This guy wakes up does work then comes home and does work during breakfast, then he gets dressed and goes to work!" and that sounds crazy! If that man frames houses he's dead in like five years! but that's not what happened. This guy woke up and made efforts to have a longer life with a healthier heart and lungs so he can have more time to be a father/husband/artist. Then he drew pictures during breakfast. He has done that since he was five years old, you know why? Because drawing is fun, remember? Then he went to work.
If we celebrate a man for being the person he claims to be and taking care of himself in the process then what does that say about what we expect from ourselves? If we turn regular men into our heroes and raise them on pedestals for doing regular things with focus and dedication then we give the illusion that normal tasks that happen all over the world are somehow unattainable except to a select "talented" few. Maybe we should stick to measuring artists by the quality of the work they produce instead of how often or fast they produce it. Let them be just normal people who work hard.
Just a thought.
The Road
This just in, I've added one more stop to the 2014 travel list! June 20th-22nd I'll be tattooing at the Empire State Tattoo Expo presented by Inked Magazine in New York! All three days you will find me working in the Waterloo Tattoo Workstations booth not only tattooing and selling my one of a kind prints but also demo-ing the functionality of Waterloo Workstations. I had the privilege of meeting Donnie of Waterloo last year when he debuted their product at Hell City Columbus and was blown away by the quality and thought they had put into these tool boxes so of course I was thrilled by the opportunity to represent them at Empire this summer. If your interested in booking an appointment for this event please contact me by email at theartofjoeking@gmail.com
UPDATES
I've returned from Detroit! The Expo was of course a whirlwind of energy and it's attendees were once again too kind: keeping me busy the entire show with exciting tattoos and engaging conversations. Thank you Michigan and thank you as well Eternal, I will certainly make every effort to return next year for the 20 year anniversary!
From here I settle in to watch Spring return to Easthampton. The next travel plan isn't until June so it's time to create some new work! Aside from the images I briefly mentioned in an earlier blog post, about the OTM art show this summer, I'm beginning a very special folk music themed commission that I'm extremely excited about. Be on the look out for some really cool merchandise in the VERY near future.
As for emails and orders I admittedly am a little behind due to travel however, I've made time to catch up on all these things over the course of this week, so If you've been waiting...thank you for your patience.
In regard to time management, Ritual Art/The Art of Joe King has grown to more than I can manage by myself in overwhelmingly positive ways. To help maintain and feed the momentum your support has created I've decided to bring on a couple new faces to the Ritual Art Team in the coming months. Hopefully by summer time, slow responses to emails will be a thing of the past! The days and weeks without photo uploads....NO MORE! Yes friends this will be a golden era where customer service and productivity will march across the land in a sovereign union of excellence!!
....well, thats what I'm shooting for anyway.
The Nature of Sleeves
So I have shirked most responsibilities for nearly a week now and aside from shoveling all the snow we've had in Western Mass I'm feeling light and rested. I say most responsibilities because I'm slightly addicted to my work and I couldn't just sit around while the studio calls to me from atop the stairs so I managed to do some printing and lay the ground work for some new projects that I'll be announcing after Detroit. It's been a little strange not doing the blog though. I never thought I would get used to the day to day updates because I tend to be a bit of an introvert but I've gotta say I really enjoy it now! Its become a great way to focus on and share the parts of my journey that bring me joy which keeps me grounded in the idea that life is exciting and keeps me focused on the good that's all around us....

Alright, enough hippy ranting, back to the grind! The theme for today is NATURE! First up i'll be adding to a half sleeve of various flowers on Dena who I started tattooing last January. Unless she decides to extend down the arm (which as we all know has a tendency to happen once you catch the tattoo bug) then today should be the final session to pull the whole thing together. Later in the day I'll be doing another session on the Bear Mountain 3/4 sleeve worn by Carrie the star of the first Tattoo Tempo video. Along with a whole slew of consultations todays work load is sure to be the perfect pace to keep warm in this frigid New England weather.
Growing as an Artist: decisions for the long term
...And there it is! Exhaustion has set in. I've been riding the wave of creativity and the raw energetic high that comes with it for a couple months now and as a result I've managed to be tremendously productive! This year has already seen substantial growth on the blog and instagram, an all new portfolio of tattoo work, new illustrations and prints, two print giveaways, AND the full year of travel dates already set! The old me would at this moment transition from creative high directly into an abusive relationship with production high and ignoring all sign of fatigue, sleep depravation, and malnutrition I would continue to push myself to finish/start more projects because well "Now I've got a deadline! The Detroit Show is just around the corner!" and I would continue this way until my shoulder ached and my hand hurt to the point of loss of grip and stability....
Now, however I'm making a big effort to listen to my body a bit more: to accept that it's okay to be tired and to rest. The other big thing in times like this is to view these creative lulls as opportunities to step away from all my various projects and live life. As artists we often get comfortable in our methods and routines. We shut ourselves away from the world in our studios and homes and we consume ourselves with work because it's what we love. The problem though is that we forget to be in the world and we lose the ability to relate to it. Art can only be complete when it's viewed by someone else, so if we never get out and live life then we lose touch with the humanity that we need to appeal to most. All that said, I'm gonna lay low for the next couple weeks: at least through Detroit. At the end of the day there may be a couple things that don't get done and some ideas will have to be on hold for another time, and that's okay. I can come back to ongoing work with fresh eyes, a healthy body, and happiness about a life well lived and that is being truly productive!
Tattoo Tempo: foot mandala
Well, this newest video is certainly the best so far! I intended to jump in to learning Premier to increase production quality but as it got later into the night I had to tap out and use IMovie however, I was still able to produce a much more polished video and way better upload quality so I'm happy.

Kaliegh sat great for this tattoo! I couldn't have asked for a better client. We do still intend to extend up the ankle, at which point I'll do small touch up on the foot to adjust contrast and density but for the most part this section is done. Entire process clocked in at about 3 1/2 hrs.

Thanks for Watching!
For Consults, Commissions, and Curiosities...
theartofjoeking@gmail.com
Dot Work for Days!
Today I'll be doing a mandala design on a foot for Kaleigh and recording another time lapse of the process. I'm excited to document this one, I use a pretty basic stencil for these tattoos so on film it should look pretty awesome as it comes together! Plus, being on a foot I should be able to get great camera angles.
Lately I've done a LOT of geometric designs and even when I'm asked to do more illustrative based work almost all my clients have been down to include some sort of mandala, sacred geometry, or something similar as well. This is by far the most concise and unified my work load has ever been and I am extremely grateful! As an individual this has given me so much artistic clarity and opportunity for growth and I truly feel as if I'm able to give more of my self and ability to every tattoo client. So once again thanks so much friends! You mean the world to me!
Tattoo Tempo: a splash of yellow lotus flowers
In this edition of the video blog I got the privilege of doing an abstract, watercolor inspired tattoo of water lilies. Since the client was fond of yellow and orange tones we decided to make the flowers a golden color with muted blues for background. She loved the way I did the owl tattoo in my portfolio and gave me total control over the composition, allowing me to really have fun with all the little splatters and textures. We plan to now let the tattoo heal and settle for three to four weeks and then go back in for roughly another hour to tighten details and make sure there is enough contrast throughout the tattoo. This has become a favorite style for me, I love how relaxed and free the process feels and I can't wait to explore things further! Hope you enjoy the video!
theartofjoeking@gmail.com
WORD
"... That's what art is after all, it's an emotional connection with people's hearts, it's not intellectual, it's not poetry or music or other things, it's its own particular thing that goes into our eyes and straight down into our hearts and motivates us."
source interview at: Ain't it Cool News.com
UPDATES
I've once again made myself way to busy.... Oh well, I'll keep updates brief. Here is a list of the current happenings and goings on.
1) I'm in production of some large mandala prints! These are looking very nice out of the printer and now I'm off to trim and add another layer to the individual prints.
2) Instagram contest winner has been announced and the next giveaway begins tomorrow! In this next contest I'm throwing in the original of the mandala prints as well as a new vision of the "initiate" print.
3) The two newest illustration pieces are finished in their first stage and awaiting scanning!
4) I've got quite a few new clients booking in for geometric work and I'm very grateful.
5) I'm a little behind on uploading tattoo and new artwork pics but they do exist. I've just got to filter through a small digital mountain of photos...
6) I have a MASSIVE stockpile of mandala patterns I'm getting ready to have on hand before Detroit
also some other real world grown up things not worth mentioning. Oh, and beer. Every machine needs fuel. :)
The Answers
For those that don't know Off the Map North East is home to six resident artists, including myself, and is setup in two parts. The front, or business side of the shop houses our guest booth, Tim Senecal, and Max Rothert as well as the amazing front desk team. The back of the building, aka the party room is where you can find me, Johnny Smith, Matt Driscoll, and sometimes Frank Ready. The interesting thing about the back room however, is that its one big open room so everyone is in everyone else's experience. Clients are right next to other clients and can share stories and conversations. Tattooers can talk back and forth from across the room and can simply lean over to see each others work. By the second hour of the first appointments the atmosphere lends itself to a social gathering more than a tattoo station and provides a unique experience for anyone attending.
As I'm sure you can imagine, through the course of a week I see and hear a LOT of people! After a while you start to notice that the same questions come up over and over again so I figured I would take the time to answer some of these on the blog. Also, if you as a reader have a question that you would like to see answered on here then feel free to email me and I'll do my best to give the answers you crave.

Q) "Do you like it when people just let you tattoo whatever you want? What's your favorite thing to tattoo? What's your ideal client?"
(I've grouped these together because they're [to me] all the same question.)
A) Most tattooers, myself included, prefer to have at least a direction or a topic to draw from. I want my clients to like their tattoo for the rest of their life, so its important to me that the core idea comes from the tattoo collector. if a client can approach the artist they like with just one very basic idea or direction and then allow the artist to interpret that however they please then the collector can expect the most ideal experience from that tattooer. I personally don't have certain things I like to draw more than others, but I do have particular ways I prefer to draw, [my style] and when given freedom of interpretation those methods come through in the tattoo.
You can send your questions to theartofjoeking@gmail.com
PARTY
Looking for something to do on a cold sunday night? The OTM crew and I will be gathered at my favorite bar Luthier"s co-op in Easthampton, MA. for a night of drawing, drinking, and artistic inspiration compliments of TattooNow and Guy Aitchison's Hypercast! click the poster for additional information....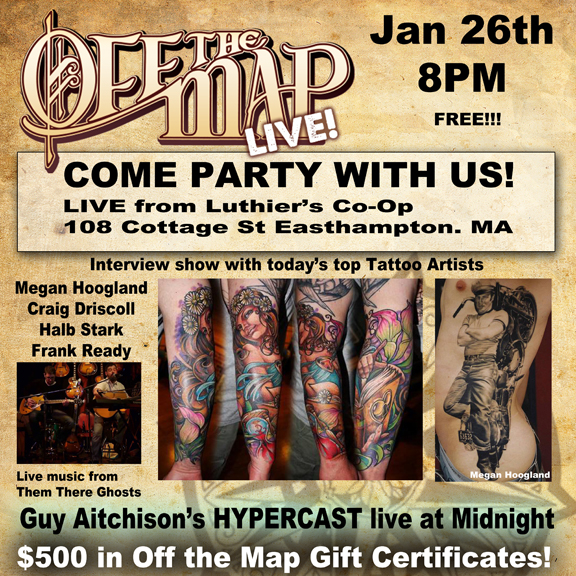 UPDATES
Just finished up the "ABOVE" illustration! I should have time to get that and "BELOW" scanned today and then it's finally PRINTING TIME! I love finishing projects and being able to instantly distribute to the world. Look for the new series in the coming weeks before the Detroit convention. Also, if you follow me on instagram then you may have noticed that I've announced my first print give away! I'm giving out one print bundle every Tuesday for three weeks! Just visit my instagram [@ritual_art], follow the instructions, and your automatically entered in all three! Aside from one of my hand customized prints I'll be throwing in a whole bunch of other fun goodies like original drawings Off the Map swag and more so don't miss out on your chance to win!
Tattoo Tempo: sleeve progress
This video chronicles the final session of two large tattoo projects. First is Patricia's lower leg half sleeve of two Japanese inspired koi fish with stylized water lilies. Done in several sittings over the coarse of last year this final pass was mostly focused on strengthening the outline, solidifying any solid black areas, and adding the splash around the knee. I've really enjoyed this tattoo and I love how the under water koi on the inside of the leg turned out!
Second is Mike's USA themed full sleeve. Like the previous tattoo, Mike's final pass was primarily about line weight and solidifying black. Since large work takes such a long time to complete, a session of balancing a sleeve can help insure the tattoo ages evenly. After an hour or so of building up lines I reevaluated the background density to help push the images forward and add a greater density to the overall sleeve.
I'm honestly really sad to see these pieces end! Patricia and Mike gave me a lot of freedom to be myself in the designs and were infinitely patient with the process. I couldn't have asked for better clients!
theartofjoeking@gmail.com
Tattoo Tempo

Check out this sweet time lapse video I made with my phone!
The tattoo is a very interesting sleeve I started a month or so ago. One of this client's top requests was that her sleeve should have a sort of story book illustration style so I've been overjoyed with the opportunity to do an entire sleeve with just pen and ink techniques. The arm is looking great and I couldn't wait to share so I threw together this quick film as a teaser!
The music in the clip is by a band called Dawn of Midi who I first heard about through my favorite podcast/radio show Radiolab in there segment titled "Dawn of Midi". ENJOY!
The Road
Just a quick reminder, if you live in Detroit or the greater Michigan area, on February 21st-23rd I'll be tattooing at the 19th Annual Motor City Tattoo Expo which will once again set up camp in the Detroit Marriott At The Renaissance Center .
I've had an appointment cancel so I now have space for a couple medium size tattoos. If you would like to book an appointment for the show please contact me at theartofjoeking@gmail.com. Just like last year I'll have some fresh sketches on the table as well as some awesome new prints for sale! Stop by and have a chat, it's a great show and always a fun time!
Spirit Animal Tattoos: Mark of the Ancient Past
Merriam-Webster's dictionary defines a totem as
'an object (animal or plant) serving as the emblem of a family or clan and often as a reminder of its ancestry; also : a usually carved or painted representation of such an object'

Lately I've taken a lot of requests for various totem tattoos. I personally love these experiences, every tattoo seems to inspire the wearer toward a higher ideal of themselves. Some use there totem to invoke strength, others focus on wisdom or cunning, and still others need their totem to bond them to an ancestral past. Regardless of intent transformation is the end result and I'm thrilled to be able to embrace this modern shamanism into my world!
Today I'm tattooing Lorna who is receiving her lion cub totem on her forearm. It's going to be a really fun piece with a lot of symbolism, some nice geometry, and a splash of illustrative flare. We're aiming to finish this tattoo in one sitting but staying open to maybe needing a short second appointment. Big tattoos in full color can do a lot of trauma to the skin and if you go to far with blending and detailing you can cause a bad heal. That being said I always pay close attention to the condition of the skin so that we can stop before damage occurs. Just like in driving a car, knowing when to stop is just as important as how to go.
New Fine Art and Limited Prints!!
SOOOO much happening!! The secret prints are back and as soon as the mail goes out tomorrow they will once again quietly go out into the world... If you get one please take a photo of the print wherever it ended up. It could be cool to put together an album of all the different places they appear. If you would like to receive one of these limited prints simply email me at theartofjoeking@gmail.com with your name and current mailing address. Address' are pooled and chosen at random.
Also, it seems Off the Map will be doing a VERY cool art show this summer! I'm not gonna go too far into it but I will say I've spent a large part of my day doing research into F-51 fighter planes, cone shaped flying objects, and a half man half goat creature that will take over the mind of our youth.... More on that in the coming months.
In printing news, I have put together an official price list for print services and options for 2014. If your an artist interested in limited run Giclee prints email me at theartofjoeking@gmail.com with subject "GICLEE PRINTS" and I'll send the pdf straight away.
The "Above" illustration is coming along very nicely! I've had a ton of ideas for prints of these new pieces and can't wait to get into the third image. And of course, Instagram [@ritual_art] is the best spot to get real time updates on the latest projects. The newest addition being a cool time lapse short of the "Above" art in progress!
And in case my email was somehow overlooked earlier in this update its theartofjoeking@gmail.com I'll leave the light on for ya....
Inspirations of Nature:From Skin to Paper
I had planned to do some camping with some friends the last couple of days but unfortunately that didn't happen. So, I took the days off anyway and spent some quality time at the ol' drawing table instead. I have to say, its felt great! I spend most of my creative energy on tattoos in my day to day, so having time to do art for art's sake can be really rejuvenating. The piece I mentioned in a recent "The Drawing Board" segment is now a couple hours away from completion, and that in its self is a huge accomplishment. Pen and ink work tends to take tons of time even when it goes fast, but with an extra undisturbed day to work I now have two of the three ideas looking pretty damn good!
For now though, it's once again back to the grind. Today I'll be tattooing some more flowers on a return client who is accumulating quite the garden at this point! I'm personally a big fan of flower and nature based tattoos. They always have a timeless appeal and artistically there seem to be no limitations in the infinite ways to represent them. Today's tattoo does have a small cover up to address however, so I'm not sure what the approach will be until I get in there and start drawing. Normally I work off of reference photos that I take myself in the the spring and early summer. In this way I always use fresh never before seen reference. I like the concept that not only is a tattoo a representation of the life and time of the person, but also reflects the specific time and season of the region the tattoo was created in. Pretty cool!

Speaking of flowers, last night, I met up with my buddies Johnny Smith and Matt Driscoll for a late night drawing session with chalk pastels. I did an abstract version of one of my favorite rose pictures from this past season and I'm super happy with how it turned out! If your interested in checking it out pop into my instagram page [@ritual_art]. It's regularly filled with real time updates only seen on IG, and soon I will begin a series of giveaways! I have a stack of goodies just waiting for a shipping address. Tune in for a chance to win prints, original sketches, drawings, and much more!
The Road
Alright friends, I have officially confirmed my full list of travel dates for 2014! This year is going to be a little different from the last couple since unfortunately there will be no Paradise Gathering this year and I will not be attending Hell City Columbus. The Gathering in particular has become one of the most cherished parts of my year for experiencing growth as an artist and Hell City is simply the best of the best as far as tattoo conventions are concerned. So in order to fill that void I've chosen two guest spots that I'm certain will be nothing short of amazing!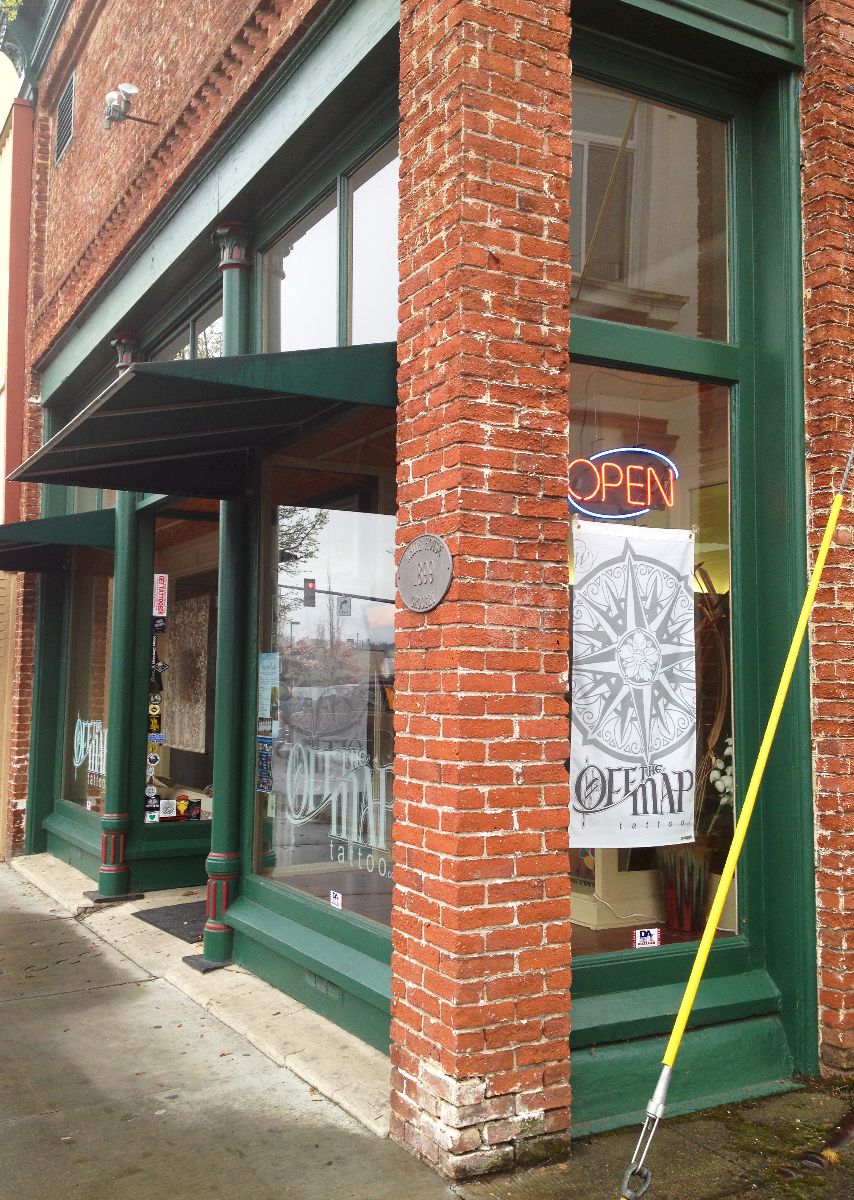 First up I'll be visiting our northwest shop in Grants Pass Oregon. I've met and worked with all the guys out there before but this will be my first time at that location as well my first visit to the west coast so I'm extremely excited to get to spend some time with all my friends out west. I'll be tattooing in Grants Pass June 29th through July 5th. After that my wife and I are going to vacation for a week and take in as much of the Oregon country side as possible and hopefully make some new friends along the way! Then it will be back to Off the Map Grants Pass For another week of tattooing from July 13th to July 19th. If your interested in booking one of these dates you can contact Off the Map Tattoo Northwest by phone @ 541 244 1141 seven days a week from 10-6
Next on the new stop list is the one and only Ink and Dagger Tattoo in Decatur Georgia to once again work alongside my former OTM booth mate Kelly Doty! Ink and Dagger is a superb group of artists lead by the world famous Russ Abbott. Back in the summer Russ came up to guest at Off the Map NE and taught his color theory seminar here in town. I learned so much from that couple of hours of information that I'm near speechless at the opportunity to commune and work with Russ and his crew at their home shop in Decatur. I plan to tattoo September 9th through the 16th. For appointments Ink and Dagger can be contacted by phone @ 404 373 6655
As important as it is to reach out to new audiences and make new friends I can't forget about my old ones so I'll be returning to a couple of my favorite regular stops. Feb. 21st through the 23rd I'll once again be setting up at the Motor City Tattoo Expo in Detroit Michigan. I always love tattooing at this show; it's just a great time! If you haven't been to Motor City before then you've been missing out, Eternal does n excellent job making sure it's packed with great clients and talented artists!
And of course I'l be returning to my old kentucky home late September to tattoo at Charmed Life Tattoo in Lexington. This spot is by appointment only so if your interested in one of those days please contact me ASAP! Those appointments always fill very fast! For Motor City or Kentucky tattoo appointments I can be contacted directly through my email theartofjoeking@gmail.com
DONE! the rest of the year I can be found at Off the Map Tattoo in Easthampton Massachusetts, in the back room, far corner, by the window, next to the kid in the funny hat....
Hope to see you soon!
The Drawing Board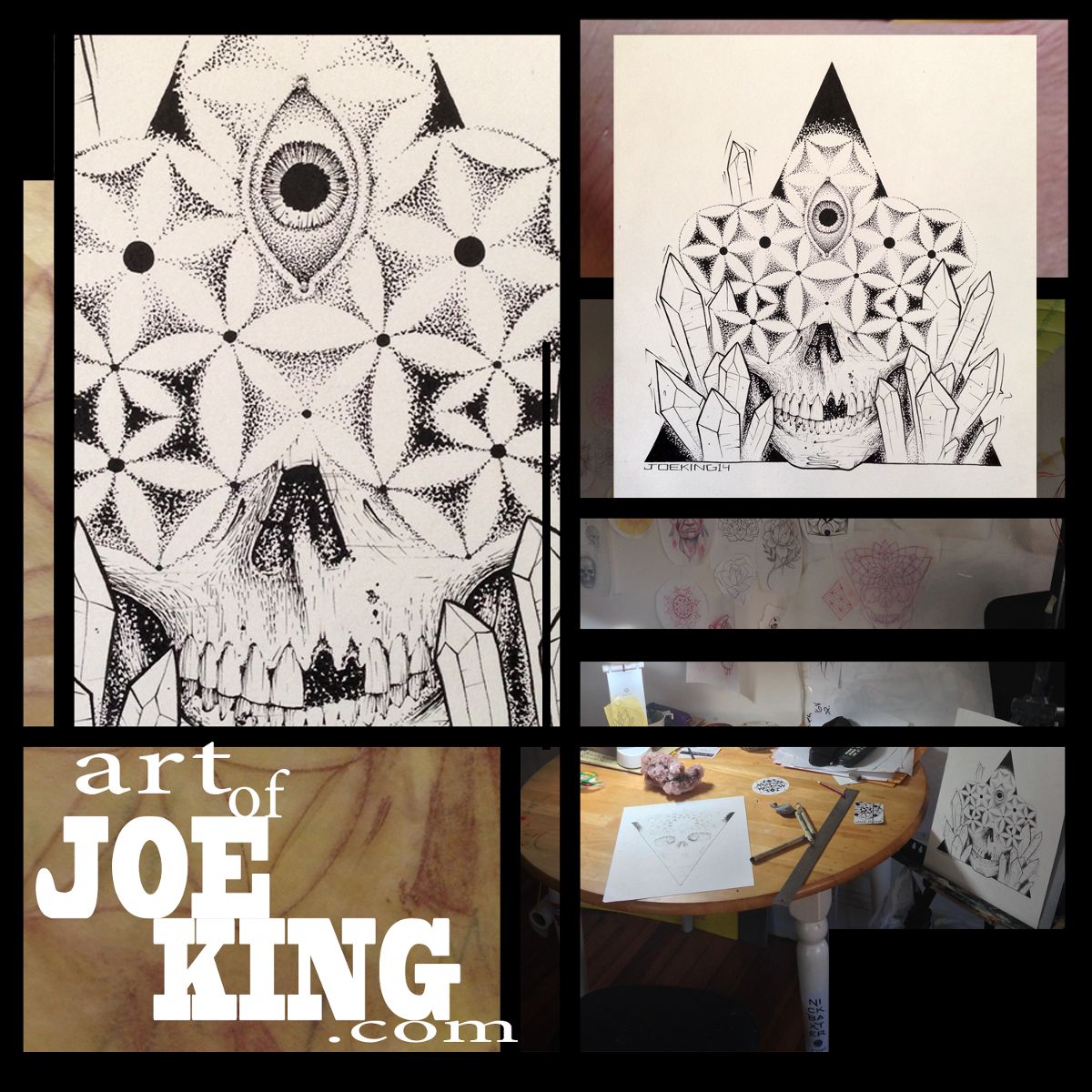 "BELOW"
Phase one of this piece is officially complete! I've been thinking of this image for a little while now but didn't have a real purpose or overall plan for it. I stay fairly busy anymore so if I don't have an intention for a piece then it usually just gets a quick thumbnail sketch on paper scrap and then tossed in the dreaded "one day" pile. This sketch however really spoke to me, so I finally decided to start it for the sake of making something new. As it turns out this image came attached to others that I apparently couldn't see until I dove into this one. I've already started the sister to this piece which will be titled "ABOVE" and can be seen on the desk pictured left. I almost have this second image clear enough to bring a third image into view. The Alchemical Union...
I'm still not sure how I want to release these though; prints for sure but I really want this group to stand out! For now I'm gonna keep the momentum going while it's there. I don't always have ideas and I certainly don't always feel inspired so when I do I really try to just stay with it. No distractions, just be in the moment, and breath.
As always, thanks so much for the support, I hope you enjoy the new piece!
Geometric Blooming Skull
Here is a preview shot of how yesterday's session with Austin went.
Aside from featuring two of my favorite subject matter (skulls and geometry) I'm really enjoying the fit of this piece. As you lean to the side to take in the rest of the image the skulls placement gives a great 3-D look that I couldn't be happier with. We have a long way to go on this tattoo, especially since Austin has given the green light to wrap to the front of the leg and possibly even to a full sleeve! I can't wait to get back in there and expand but for now I have to walk away.... Back to the grind!
thanks for looking
The Road Ahead: the process of large scale tattooing
We press on... Continuing work I started a while ago, today my two clients and I will be making a hard push toward the finish line. These mid stages of large scale tattoo work are what I find to be the hardest. As a client you have left the previous session with sometimes just a framework of what the tattoo will end up being. At this stage it's easy to get discouraged, especially in a busy shop like Off the Map because it can sometimes be a couple months before you can get back in for another round. That time away can also make it hard on the artist because we have spent so much time away from the tattoo thinking of other projects that we can lose site of the intention for the piece, which makes for a slow start to a session and more time in the chair.
I do my best to combat this scenario by keeping a couple in progress pics on my phone or computer to be able to review the images before the appointment date and once again bring our intentions back to the front of my mind. In doing so I can set up goals for the day ahead that will allow me to make huge leaps in progress from session to session. Not only does this allow me to finish the tattoo more efficiently but it keeps my clients excited to get back. Every sitting evolves the image so much that both artist and collector can't wait to see what happens next.
The Drawing Board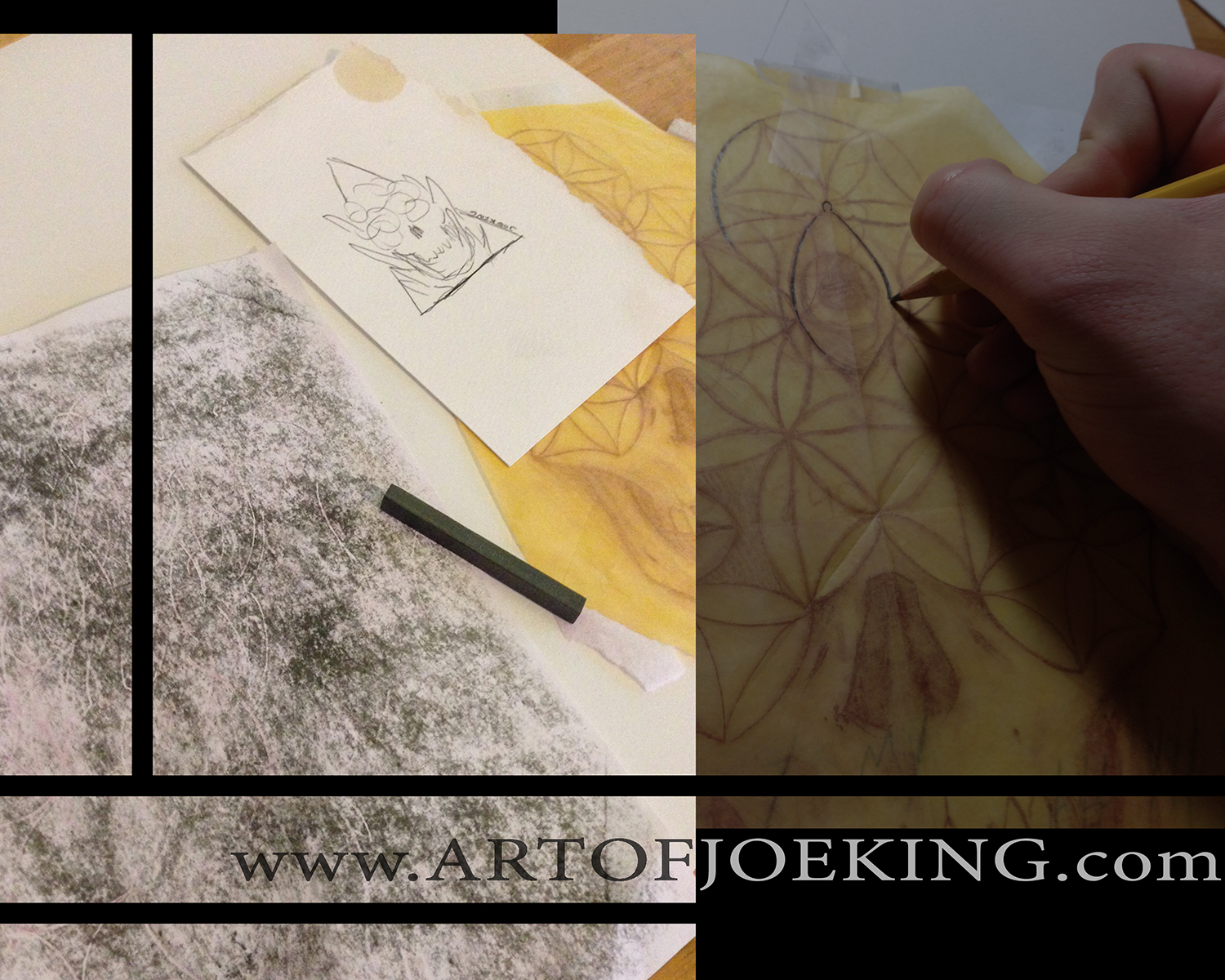 New images brewing in the studio!
That means a fresh line of new prints and one-offs are just around the corner friends, stay tuned!
Fine Line Tattooing
A day of lines. Personally I love line work in art. I see the lines of a piece more like the brushstrokes of a painting than the border of an image. So days like today are extra exciting because I'm recreating pen and ink illustrations composed of only lines. However, I didn't always enjoy lining. I remember my first boss giving me my 'almost' compliment years ago after I did my first black and grey portrait. "That's a good style for you..." he said with a smirk "since you can't outline." A bit cold of a compliment but true nonetheless. I couldn't do a nice outline to save my life it seemed, but I was determined to make that man eat his words! I've spent a long time studying and practicing and powered through a lot of frustrating days to not just pull a straight solid line but to also understand that those lines describe something. Those strokes can be all that's necessary to form a complete story. One line at the corner of a mouth can change an emotionless scowl to a pleasant grin. Days like today remind me I've grown; and that mountainous obstacles can fade to mole hills with time. If you're an artist struggling with your craft... keep your chin up! You're not alone, it's just part of the ride.
Victory
FInishing a FULL Sleeve!
Such an exciting day; after an enormous amount of time and dedication
today we reach that beautiful finish line!
I'll put up a photo tour after todays session...
WORD
As the winter slowly engulfs the valley of Easthampton our world changes to a quieter place. The snow washes away the color leaving nothing but values of sludgy grey and the sun teases us by only making brief appearances through the dome of overcast skies. The world ultimately becomes cold and bitter and so easily one can drift into the winter blues.... However, if you're looking in the right way, the world is a fascinating place filled with a seemingly infinite amount of diversity and wonder. Mysteries and excitement are around every corner and fortunately we have resources to explore these wonders without ever leaving the comfort of our warm homes.
Hopefully after watching these fun facts your feeling lively and inspired to get out and explore this rock we call earth, cold or otherwise. Have a good day folks!
Tattoo Gallery Update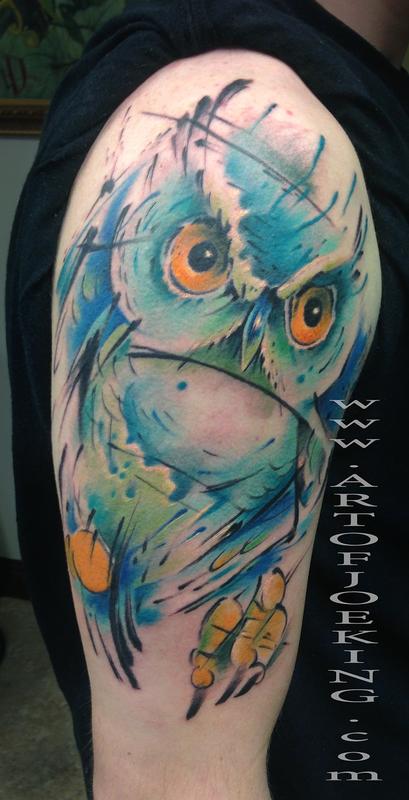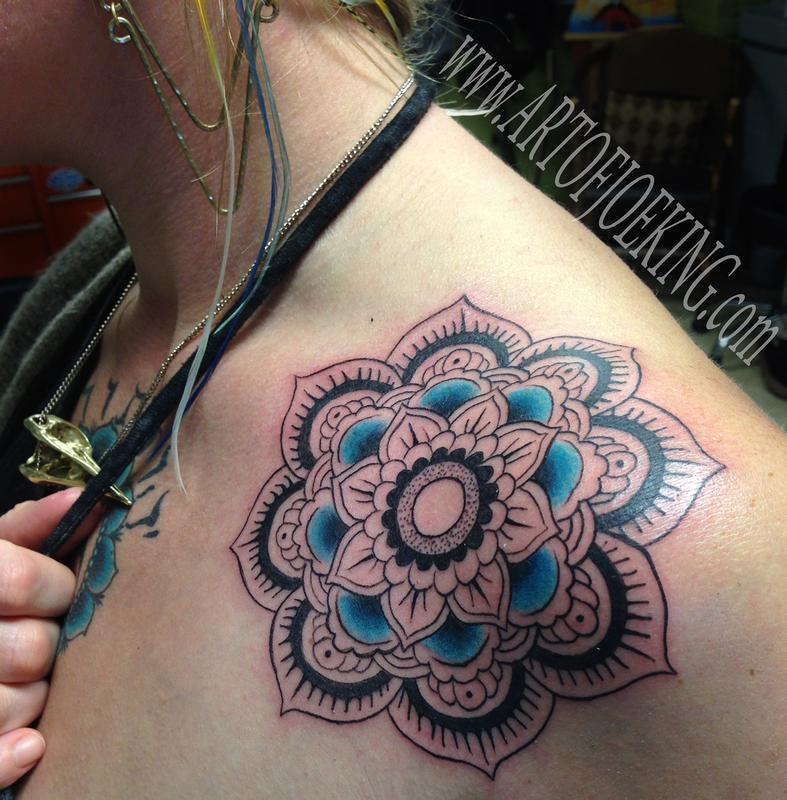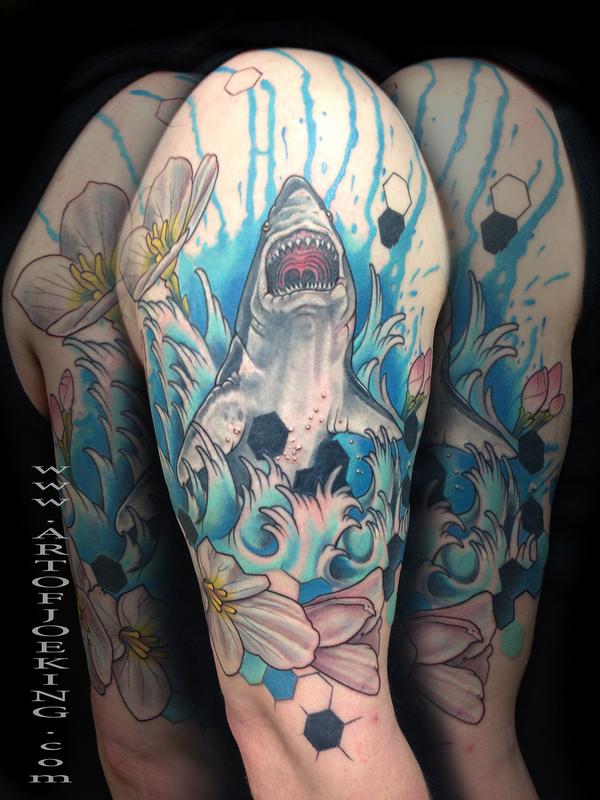 New things in the Tattoo Gallery! These newest additions are a great representation of where my heads at lately. Click an image to check out the higher resolution. Thanks for looking if you would like to consult with me about a tattoo you can reach me at Off the Map Tattoo in Easthampton MA. by phone 413 527 6574 or by email theartofjoeking@gmail.com
Interviewing the tattoo community...
I've taken a small break from the blog the last few days to take part in some holiday merriment and lay some foundation for the big things on the horizon of 2014.
I'm just about finished with the second installment of PRINTerviews with Frank Ready. If you missed the first of this new segment you can read it HERE. I'm editing a couple of these actually, and I'm really enjoying the whole process. I've started to notice a very interesting continuity from artist to artist so I'm attempting to highlight these overlapping ideas in a way that feels like a long ongoing conversation between the larger art community. In part because I feel public dialogs amongst artists are important for the next generation of creatives but also I hope to allow the public/fans/collectors [YOU] a chance to know these talented artists a little bit better. The better we know each other the stronger our community can be, and well... community is all we have.
I've been really busy so far this season and I have to take a second to thank all my amazingly supportive clients. There are TONS of ways you could spend your time and money this holiday season and you have chosen me... in the words of Jeff Gogue "I'm honored."
Today I'll be doing an abstract owl tattoo on an arm. Crazy bright colors, splatters, and lines dancing on a fleshy background are awaiting me friends. Gonna be a damn good time!
PARTY
?Come join the staff and clients of Off the Map Tattoo to celebrate whatever Holiday is important to you and our 8 year anniversary!
This party will have so much amazing FREE stuff it would be crazy not to attend. Not to mention the general merriment, and fun!
DOORS OPEN AT 6PM- Every single person through the door gets a $25 Off the Map Tattoo gift certificate! 7:00PM- FREE CATERING courtesy of Off the Map provided by Captain Jacks Roadside Shack. 8:30PM- Pin the tramp stamp on Santa! First place gets $75 Off the Map Gift Certificate!

10:00 PM- FREE RAFFLE- Everyone through the door gets a FREE raffle ticket- Sponsors include: SHOW Circus, Hillside Pizza, Northampton Karate, Snap/Active 8, Anna Bee Craft, Bon Appetite Burlesque, Halo Couriers, Joe King, Frank Ready, Unicycle Brand, Berkshire Blanket, Bistro Le Gras, TruBeer, The Botanist, Antonios, Manhan Cafe, White Square Books, To Dye For, Local Author- Anna Bowen, Christine's Bean Sprout, New England Felting Supply, Reiki Master Dawn Rising, Awen Tree, Popcorn Noir, Luthiers Co-op, Fit Body, Hairy's Pet Supply, Off the Map Tattoo and more! You must be present to win.

-Best Tattoo Idea Contest- Winner gets $250 towards their tattoo idea! Enter any time during the evening!
And so much more! Did we mention it's all free? No admission, no charge for raffle tickets, no cost for fun! We hope to see all of you there to celebrate with us! Tell all your friends!
Deep Sea Tattoo Adventures
Today should be the final sitting of an octopus and antique diving helmet tattoo I started a couple months ago. It's a black and grey piece starting on the arm and rolling up onto the chest, the image sets a scene where the octopus has perhaps found the helmet in the deep and is about to hide inside. Octopus are amazing creatures and are so much fun to draw and tattoo. Having bodies that can stretch, compress, bend, twist, and contort in a seemingly endless variety of ways allows us tattooers to really push the boundaries of what a layout can be. Combine that with a mix of almost any texture you can imagine and you've got yourself one hell of an exciting tattoo design!
I might throw a pic on the ol' instagram machine but no promises. Black and grey tattoos are better photographed after they've healed, especially if the tattoo has been done in sessions, due to the redness of the freshly tattooed areas. So, until then enjoy these fun cephalopodic factoids compliments of OneKind.org
• Common octopuses will collect crustacean shells and other objects to construct fortresses, or "gardens," around their lairs. Other octopuses carry shells for protection.
• The common octopus has a wide array of techniques it uses to avoid or thwart attackers. Its first—and most amazing—line of defense is its ability to hide in plain sight. Using a network of pigment cells and specialized muscles in its skin, the common octopus can almost instantaneously match the colors, patterns, and even textures of its surroundings. Predators such as sharks, eels, and dolphins swim by without even noticing it.
• They have been found to play with a 'toy' and to have individual responses and individual temperaments, with some scientists believing they have individual personalities.
• All octopuses are venomous, but only the small blue-ringed octopuses are known to be deadly to humans.
• There are around 300 recognized octopus species, which is over one-third of the total number of known cephalopod species.
• Octopuses have four pairs of arms.
• Octopuses have three hearts. Two pump blood through each of the two gills, while the third pumps blood through the body.
to continue reading on the wonderful world of octopi click HERE
PRINTerviews
Today's PRINTerview is with Sorin Gabor, a very talented artist out of Ohio who I had the pleasure of meeting at the Paradise Tattoo Gathering in Colorado earlier this year. He paints, he draws, he tattoos and he now has prints available to you, the adoring public!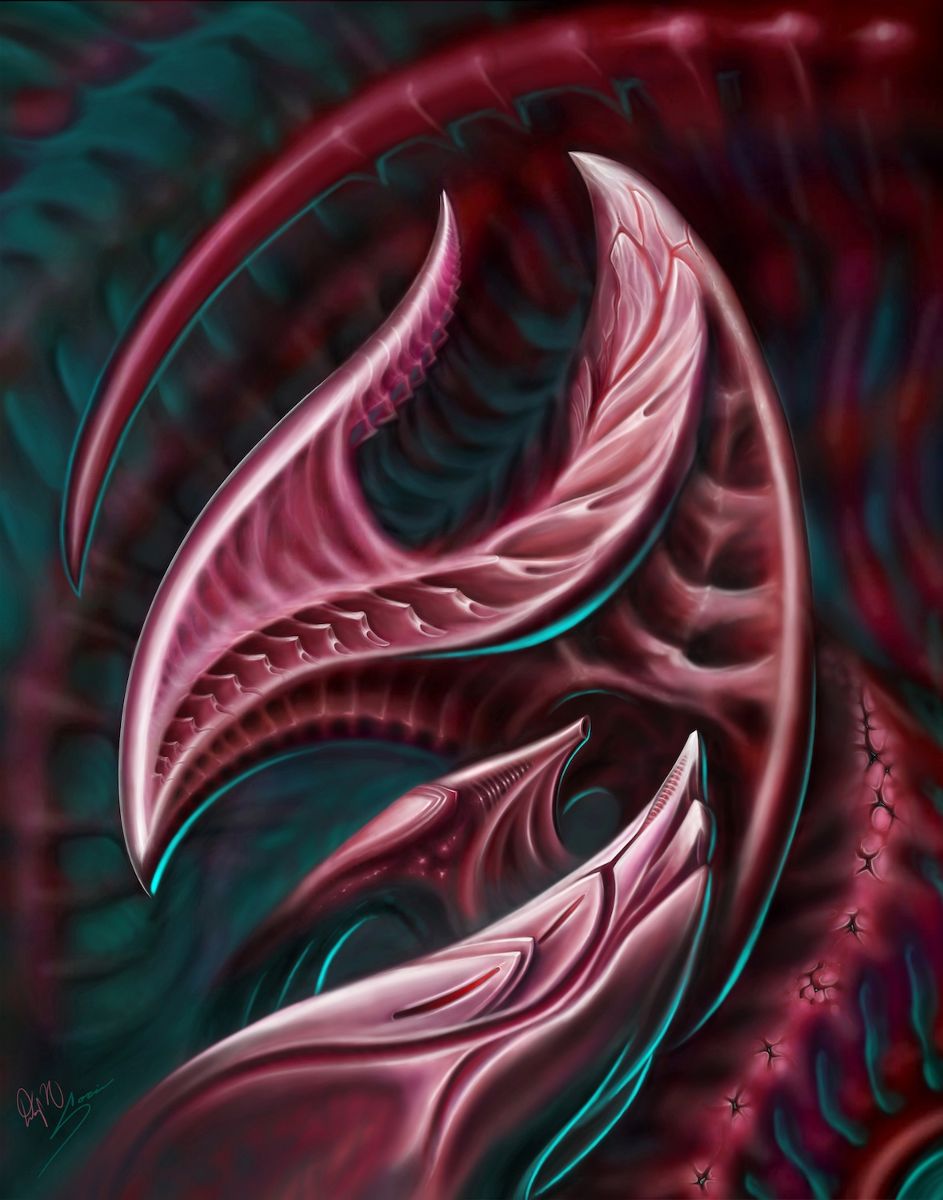 This image was printed with archival inks on an exhibition fiber paper. Personally I really like this paper for digital based media. It has the vibrance of a photo paper but it's heavy. Thick. The texture is similar to that of old black and white dark room paper or a subtle eggshell. The colors of this piece are very rich with strong contrast and the paper texture almost pushes it off the page making it feel alive in an alien landscape. Sorin had this to say about the original.
"This piece was a digital collaboration with Doug Nedzesky done in Photoshop. It was passed back and forth until both of us were happy with the image. I would guess between the both of us we have around 40 hours or more into it."
Very often now I'm seeing tattooers, illustrators, and painters pushing themselves to try the available technologies for artists, such as Photoshop and Illustrator or devices like the Cintiq Tablet, to enhance their work. I asked Sorin if, as a tattooer, his work had changed or been enhanced by his painting.
"I believe it's enhanced it definitely. I actually began painting, drawing, metalworking, sculpting, glassblowing, etc... long before tattooing. I've been into it in one way or another since I was younger, then pursued it further in college. Tattooing is the newest form of art for me and I am really glad I had an art background before getting into it. Painting is much more forgiving- if you're not sure if something will work or not it's not a big deal because you can always paint over it. It allows you to be much more experimental and work things out before attempting it in a tattoo. I think for me personally it made for a better transition into tattooing and I try and paint or digitally lay out most, if not all, parts of the designs before I even begin the tattoo. That way I can focus more on the tattoo and know I worked out any problems or issues I may have been unsure of through the many versions prior to the final design."
Lastly I approached Sorin about a topic that I know to be very near and dear to so many hearts around the world. The very real threat of carnivorous rabbits being equipped with laser eyes! In such trying times, as we all know, the survivors are the ones with a plan.... Sorin, how will you stay alive?
"Hmmm... I think that would depend on the size of the rabbits- normal or colossal rabbits that are at least the size of a horse? If normal sized, I would probably head to the house of the most heavily armed friend and go on a bunny frenzy. If they are large, yet still cute bunnies, I suppose I would have to try and tame one until I could use it to try and bring down their cuddly bloodlust! I will begin trying to grow the best and largest carrots in the event this scenario occurs- I will be prepared."

Sorin can be contacted for prints or custom painting commissions through his email bedsores@gmail.com. or FACEBOOK
next time I will be speaking to the ever so witty Frank Ready of Off the Map Tattoo.
thanks for reading!
WORD
Dear Mr. President and Members of Congress,
We understand that governments have a duty to protect their citizens. But this summer's revelations highlighted the urgent need to reform government surveillance practices worldwide. The balance in many countries has tipped too far in favor of the state and away from the rights of the individual — rights that are enshrined in our Constitution. This undermines the freedoms we all cherish. It's time for a change.
For our part, we are focused on keeping users' data secure — deploying the latest encryption technology to prevent unauthorized surveillance on our networks and by pushing back on government requests to ensure that they are legal and reasonable in scope.
We urge the US to take the lead and make reforms that ensure that government surveillance efforts are clearly restricted by law, proportionate to the risks, transparent and subject to independent oversight. To see the full set of principles we support, visit
ReformGovernmentSurveillance.com
Sincerely,
AOL, Apple, Facebook, Google, LinkedIn, Microsoft, Twitter, Yahoo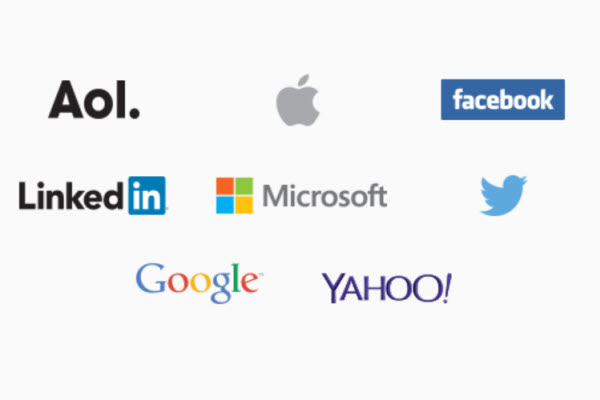 The Long Road: full back tattoos
Back piece day! I LOVE large scale tattoo designs and as of late I've been very fortunate to be working on a lot of them! Full backs, sleeves, and chest pieces take an enormous amount of time and sometimes extreme dedication to finish. However the feeling I get to share with my clients after completing such a huge task and seeing the full scope of the vision for the first time is... powerful. The work just comes alive at that scale, to me there's nothing else like it.
Today I'm continuing color on the Vajrapani full back piece. I'm really excited to see the outcome of this session. I've spent most of the time thus far focusing on just the cover-up area which is ALWAYS slow work. Today I get to really cover ground and show big progress.
Tonight I'll be doing post production on Sorin's prints as well as prepping his interview for the blog. Look for that in the next couple days.
and just for fun...
derp
Interviewing the tattoo community...
Just finished up a print order for another bio organic digital media artist. I really enjoy doing prints for this style because it's the first time the image has existed outside of a computer screen. We've chosen a great archival paper and the colors have come through rich and vibrant. Look for an interview with Sorin, the artist, soon here on my blog.
In preproduction currently is my co-worker Frank Ready. Frank has been on fire with the amount of work he has produced lately and I'm very excited to do a couple runs of his favorite pieces.
The last half of the day i'll be lost in shapes and lines as I layout the other side of the mandala I posted in the most recent segment of THE GRIND
Mandala Tattoo: with just a touch of color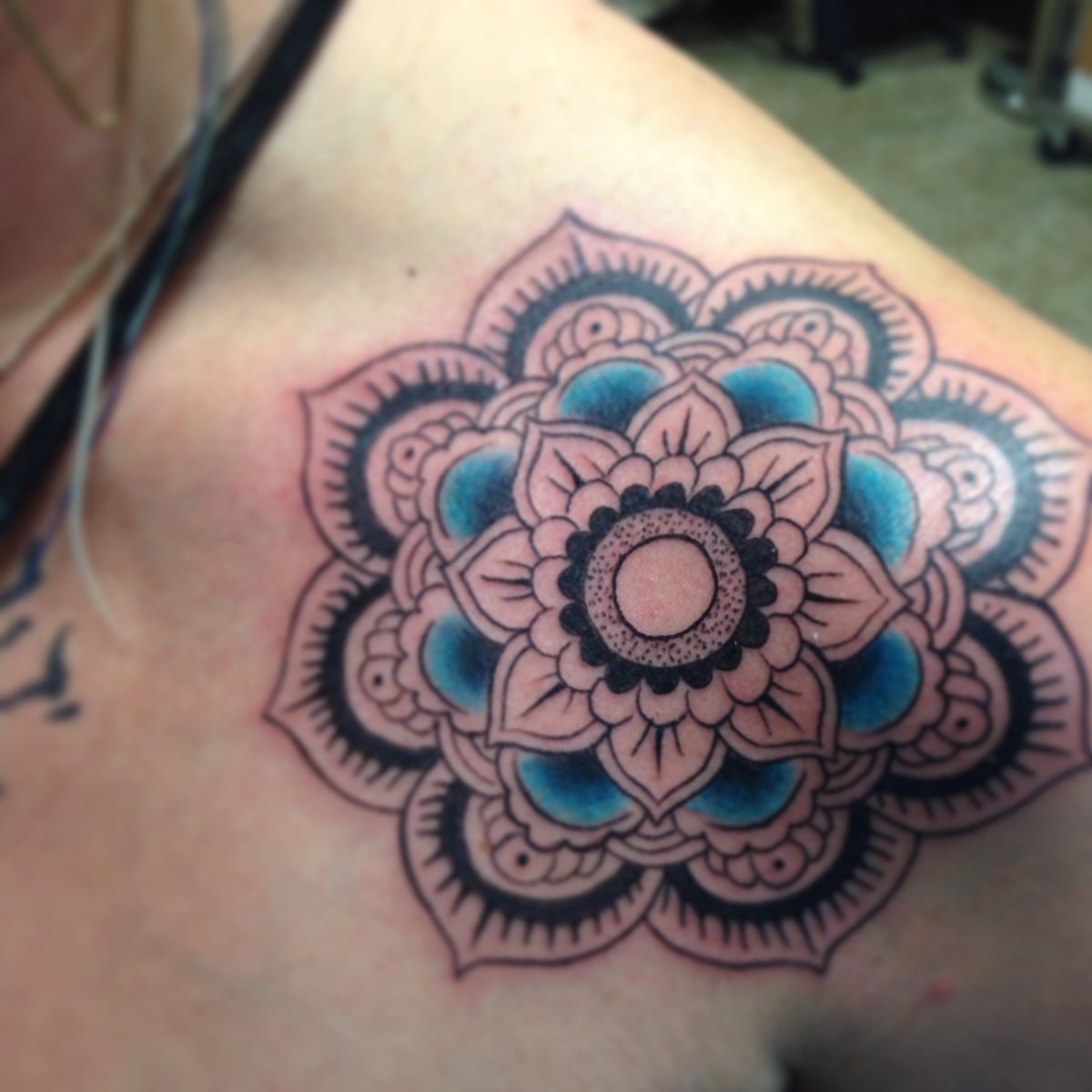 I got to start this sweet mandala tattoo a few days back. It's still in progress but I liked this shot a lot and had to share.
Soon she will be returning to have this mirrored on the other side, so I'm gonna wait to put up gallery pics then. I loved my clients suggestion to throw in the splash of color!
Thanks for looking everyone!
SHOP
Only a couple of these prints left in the store!
Head over to theartofjoeking.bigcartel.com to snag one before they disappear forever.
Thankful....
Another thanksgiving holiday has passed and for me it has once again helped solidify the value of family in the enrichment of everyday life. I'm truly grateful for the people I'm fortunate enough to be surrounded with and supported by. Also I'm happy to once again be in awe of the wonderful adventures and amazing lives this world has to offer. I find that it's real easy to to get lost in the small problems and distractions in life, so as I stumble through the shittier parts of my path and I happen to look up at the amazing world around me.... I'm trying to stop, and be grateful. Thanks so much for all the love and support everyone!
Today I'll be expanding a sleeve up to the chest. The plan was made from the beginning of the arm so the new addition should go super smooth. Check the Instagram @ritual_art for progress shots.
Also might dip down to COSM tonight for Alex Grey's 60th Birthday Party! Should be a wild time!
WORD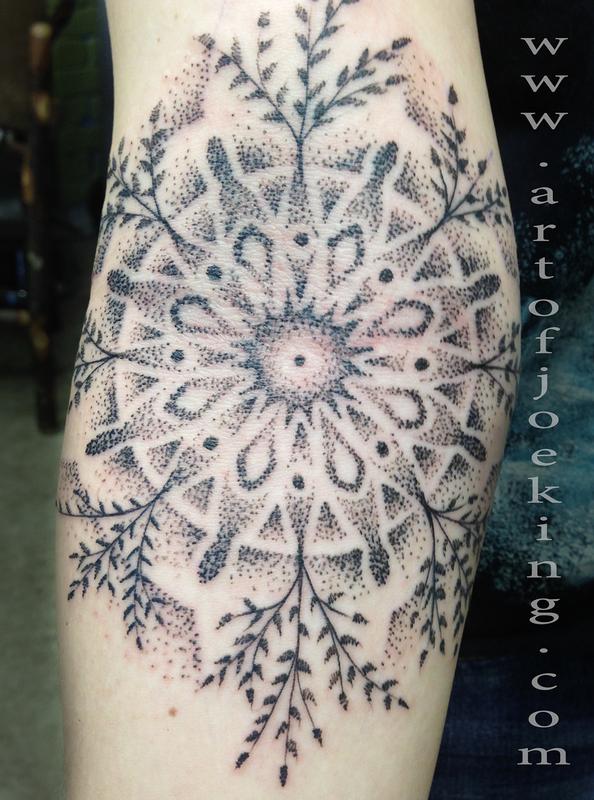 " The Mandala is a reflection of the true face of the Universe-
it's particles span the Universe and each point in that ocean is the center of a vast,
Cosmic mandala that stretches endlessly in every direction."
Mandala: spiritual visions of our ancient self -Peter Patrick Barreda
The Invasion
So a little while back, just after spending a week in Keystone Colorado immersed in the spectacle of nature, I got really inspired to try landscape painting. Landscapes are something that as far as the tattoo world is concerned I don't see much of a demand for so... I had never really sat down and tried, Which is sad because it was really fun! I've been missing out! I did however feel the need to put my own spin on the scene so I threw in an alien invasion for a little drama. As it turns out, people are into it! If you've been to my bigcartel site then you've already seen this first attempt and your aware that it is very much gone...sold with no hope of reproduction.....
No worry though, I enjoyed this little fella so much that that I'm gonna shift painting gears totally in this direction for a while. At least for the rest of the year anyway. You can check out @ritual_art on instagram for updates on sketches and in progress shots.
Giclee Printmaking: Joe King becomes RitualArt
Well the cold is setting in quick here in jolly ol' Easthampton. With wind sharp, the air dry and daylight fleeting, it's good to be busy tattooing in the warm home base of Off the Map! Today I'll be continuing a leg sleeve that I can't wait to share. I've done all the blackwork and it's just begging for a splash of color. After that I'll be doing a second pass on a custom Celtic inspired arm tattoo. Celtic is a bit different of a request for me but I really like what we came up with. Its good to be challenged.
In other news, the news will now feature updates in printmaking. I've been doing fine art printmaking from home for a little while now and its growing in exciting ways that need to be shared. I've been collaborating with a lot of really great artists on some truly beautiful prints so I would like to share these projects with you the public, and hopefully give more opportunities for these artists to share a bit about themselves and the work they have created.
I've got two print projects on the desktop currently and one pending that just came in...translation....BUSY! I'm only printing a couple days of the week so for now orders are closed and I can give these pieces the full amount of attention they deserve.
Thanks for tuning in!
...sweet nerd tat Brah!
Today I'll be laying color in an epic Marvel Comics, Wolverine vs. Sabertooth back tattoo. I've already set the black foundation work on this one so the days labor will be relaxing and exciting. Zero layout/stenciling/lining stress and at the end of the day the piece will have totally transformed! On top of that we get to sit and talk comics while sludgy rock and roll cascades through the air...perfect. As always, tune in to the instagram machine for pictorial updates and progress shots. @ritual_art
UPDATES
Hello all! Projects a plenty to mention in this installment of the blog. For starters I'm about to mail out the second variant of "path of the initiate". This one Is in a set of only 18 and appears as a hand made postcard. Each have been antiqued like the first set except these are hand painted with single color washes. I love the look of the cards, each one feels as if it's from a different era. I imagine the stamp and postmark will only add to that illusion. The biggest deference in this set however is that they are not available for purchase or request...you get one, if you get one. Next, I'm in the early stages of a large painting commission. To soon to say much about it although I will disclose that my rabbit hole of research has made me madly interested in a man by the name of Dodgson. I'm having a wonderful time imagining this painting and can't wait to share! Lastly, I've been invited to tattoo the crew of Beats Antique next month to sort of celebrate their kickstarter, fan funded, fall tour!! I had done live painting at a bunch of shows a few years back with the Beat Cartell and the ones with beats antique remain my favorites. I'm really excited to work among them once again, it's sure to be an exciting couple days!
NEW RELEASE!!!
"PATH OF THE INITIATE"
8x10 antiqued variant
This set is limited to 20 prints.
The original inking has been giclee printed on a heavy cold press paper using archival inks. Each individual print was then stained with coffee, giving them dense sediment trails.
After two days of coffee stain the prints were given two additional days of tea stain to produce a yellowing similar to the paper of aged books.
Lastly they all received white highlight with chalk in order to provide a sense of frailty to the piece and add a bit more depth to the image.
there are only a few left in this set, act fast! To order visit my store THEARTOFJOEKING.BIGCARTEL.COM
NEW RELEASE
The time has finally come! It seems like forever ago that I dove down the rabbit hole of proffessional print making but at last here we are!
For my first release I decided to do a run of an older piece I've titled "The Crown", actually it's been called a couple different things but thats what I put on the prints, so yeah...
really love how this image came out and many people have asked for the original but my wife loves it because it's sort of about us and well, I don't cross the misses, she feeds me too well. :)
Anyway, "The Crown" seemed like a great launch for my beginnings in print production.
I've limited the run to only 10 prints ever. Each print is hand signed, numbered, and embelished by lil' ol' me and includes a custom certificate of authenticity with an original mandala print on it's reverse side. Three prints of the set are done in a blood red signature (The Ritual Variants) and include an original ink drawing!
ONLY $30 at THEARTOFJOEKING.BIGCARTEL.com
A video for the making of "The Crown" can be found HERE
This has been a labor of love and I'm thrilled to be able to produce prints and limited edition works of art on a regular basis!! Soon I can get these pieces out to there new homes and move on to the next project!
Many new things are in the works! Thanks for all the love folks!
The Drawing Board
So I've been silent the last couple weeks both here and on Instagram but rest assured production and inspiration has been full force. I have tons of things in the works and I'm super close to the finish line for this phase. Print production should be ready by the end of the month and hopefully the long awaited mandalas will be on that same schedule. As far as tattoos go I've had a bit more interest in nature related art which I'm very happy about as well as mandala and spiritually themed tattoos. If this sounds like your thing hit me up! Nothing makes me happier!
Summer Time
The solstice is almost upon us and summer time is in full effect in the lovely town of Easthampton Massachusetts. One of my favorite activities around this time is to stroll the town for new flower reference and covert them into fresh tattoo designs. I've got tons I've drawn in the past and even more photos that I haven't drawn at all. If your a fan of nature and love the smell of summer in the air then come by Off The Map and have a chat with me. We can look through some of this seasons pictures or you can bring your own. My client tomorrow for instance is bringing in a photo of a beautiful tropical flower she saw on her recent vacation! Nature is always timeless imagery!
WWTC
Day two of the World Wide Tattoo Conference is underway starting with Nick Baxter's holistic approach to tattooing and art. Later I'll hear from both Nikko and Jeff Gogue! I can say for certain I'm gonna be ready to create when I get home.
WWTC
Almost finished with day one of the worldwide tattoo conference. Alex Depase delivered an amazing seminar filled with a one of a kind perspective and a splash of humor. Minds were blown friends! Next up an all star cast of artists will be critiquing tattoos sent in by the attending artists followed by a moderated discussion panel. Then the night begins with dinner and drinks!
WWTC
The conference is underway with guy aitchison delivering an eye opening lesson on tightening your work and adding lasting detail. The turnout is great and the energy high as we now begin bob tyrell's portrait seminar. This years World Wide Tattoo Conference is already amazing and it's only just started!
Road Trip
Im on the road to Boston with my road trip buddys Tim Senecal and Johnny Smith. Soon we will be swimming in pools of knowledge and tattoo wisdom as we attend the World Wide Tattoo Conference! It's sure to be grand adventure so stay tuned folks ill be droppin updates throughout the trip both here and on Instagram.
The Grind
Today's "Grind" is brought to you by the letter "A". As in Awesome! I'm jumping back in on a Wolverine vs. Sabertooth upper backpiece that I started a while back. It's got a neat comic book layout approach that I've experimented with in the past bust never to this magnitude. I'm loving the look of everything so far and today I'm gonna make a major push toward the finish line. Also I'll be doing a Crimson Ghost first thing this morning. Fun to be had all day!
The Drawing Board
Lots of fun projects in rotation right now! I'm currently working on a koi leg piece that I'm pretty excited about. I've finished one side of the leg already and now we're expanding to connect on the other end. Loved the way the first design healed so I can't wait to see it all complete. Also I'm working on my second redraw of a Vajrapani full backpiece. This design has defiantly been a lot of work but I'm loving the way these new changes have reshaped the overall image. Lastly I've been painting on my submission for an upcoming reference book of loads of great artists from all over the world! It's been a super productive day so I'm gonna keep the fire burning and jump back to it! Thanks for checkin in!
Eagle Sleeve
Exciting day ahead! I'll be extending the eagle tattoo in my gallery into a full sleeve with a Statue of Liberty piece. Can't wait to have this tattoo finished and polished. Stay tuned for a progress pic in the neat future. As always check out your Instagram feed for real time updates!
Lightning Strikes Twice!!
It seems I've had another last minute cancellation! If your interested in getting tattooed today at good ol Off The Map Tattoo give us a call 413 527 6574 Thanks a bundle!
Change of plan...
Well I had a massive cancellation today totally last minute, always a bummer. :( However it looks like a great opportunity to tattoo my wonderful wife Anna! Planning to do a mandala design I worked up that she fell in love with. She's my favorite person in the world so I'm extremely greatful for the time. I'll post pics soon. Check Instagram for real time updates. Thanks friends!
The Process
Well, I really wanted to make it to the black foundation and be ready for color on the next sitting but, I only managed to get the outline on for this Hannya.
Chest tattoos are exhausting! However it makes for a great opportunity to share a bit of my tattoo process.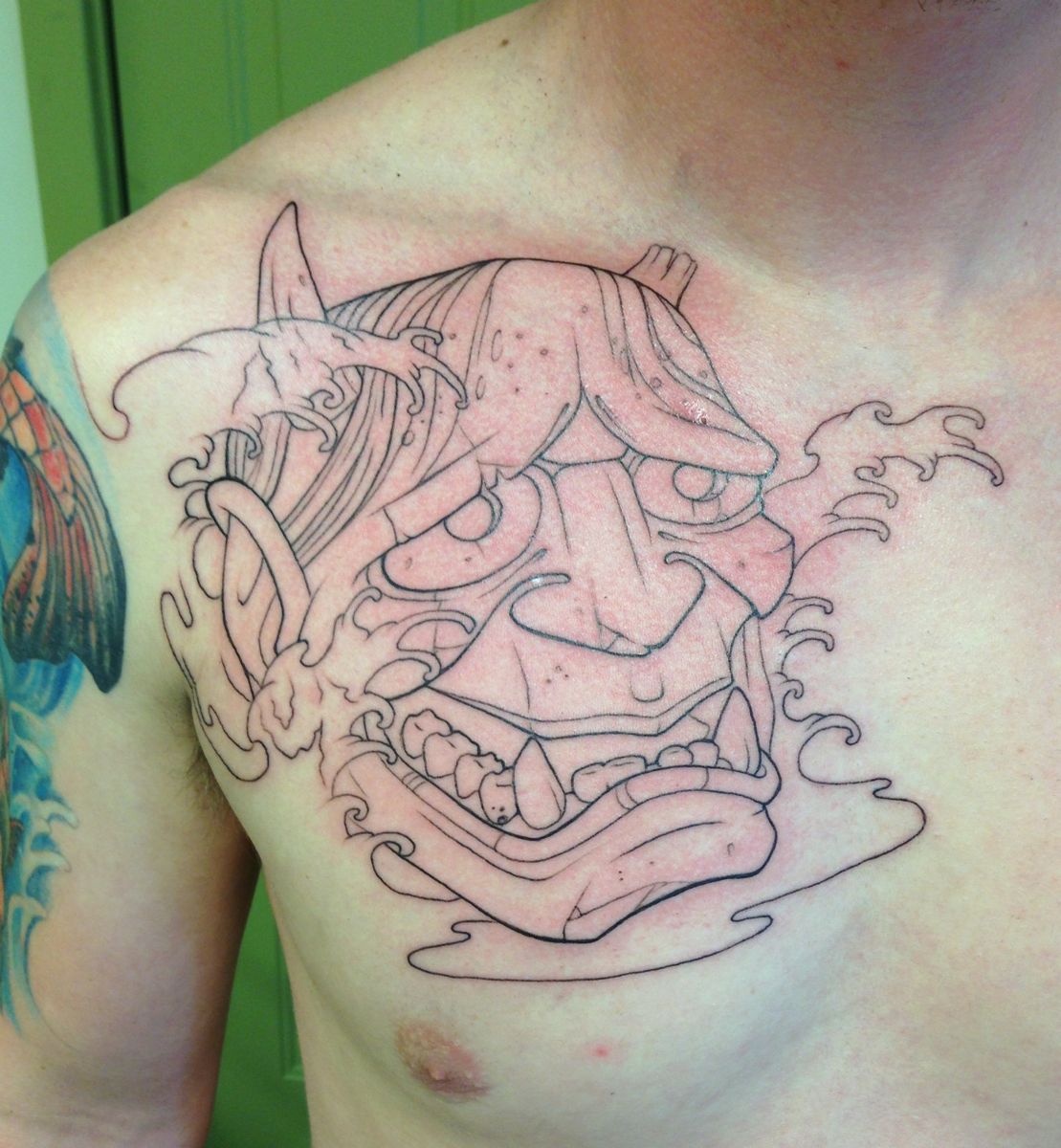 I love lines! I find myself constantly trying to improve not only the quality of my line work but also the character of the lines I choose.
Lines should describe the shapes they are trying to represent, meaning if done correctly
a line drawing will already begin the illusion of 3D form and illustrate depth. Also, in tattooing lines tend to be the thing that will last the longest,
so to me a well thought out line drawing is the most important part of a lasting tattoo.
I had a great time on this one and I'm really pleased with the overall fit! Stay tuned, next time I'll share black foundation ...
The Grind
Starting a Hannya and waves chest piece today! Really enjoyed the drawing. If your on Instagram search theartofjoeking and check it out!
Pattern World
The mandala project is sooo close to being ready! I've decided due to overwhelming response to do two mandala releases at the same time. As soon as final drafts are finished we can begin spreading these portals of transformation as far as these legs can take us! Stay tuned friends...
Fresh Offerings
Couple new photos up in the gallery! Great examples of where my head is at these days. Today I'll be finishing up a fox tattoo I started a while back. Gonna be a fun one filled with sacred geometry and transcendental symbolism! Check the ol' Instagram machine for fresh updates.
The Grind
Fun day of tattooing ahead! Back to work on the dragon leg sleeve and starting the fill in on the Wolverine vs. Sabertooth piece. The dragon sleeve is a long ways off but I might get a progress shot after today's session.
new project
BUSY BUSY BUSY!!!
I've started a new project and I'm almost done with first phase!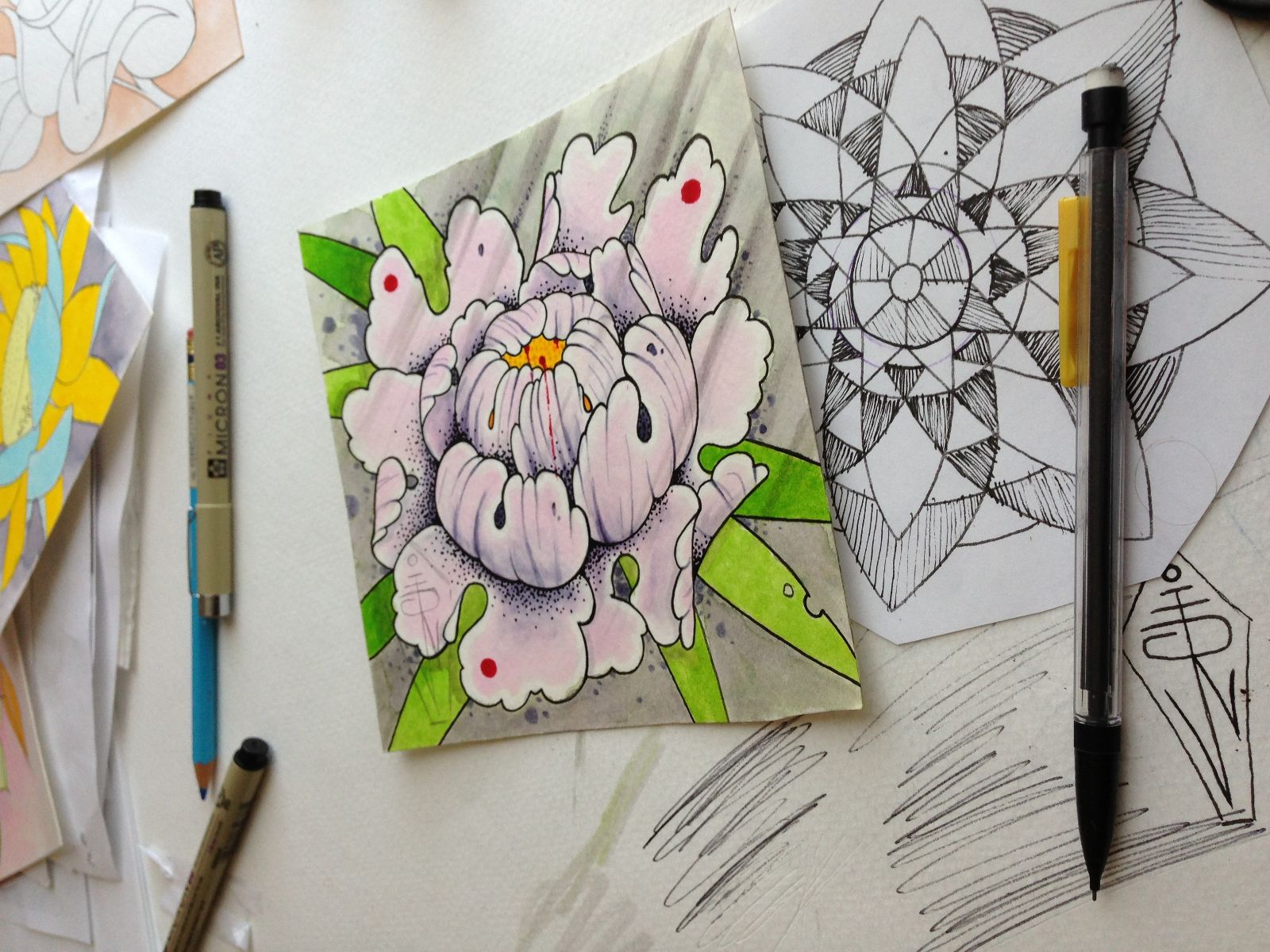 the flower titled "Grow in Light" will soon be sent to the printer for a very limited run of unique prints!
The mandala is something special and free to anyone interested in spreading its meditative love...
More on that soon.
I've shifted directions a little bit, stay tuned!
The Grind
It's fun times in the Off the Map Tattoo Backroom these days! We've got a full house with me working along side two extremely talented artists and all around great guys! Ernesto Nave and Matt Stebly! If you not familiar with their work then do yourself a favor and follow the links. These two work hard so there is always something new to see.
On the agenda for me today, two giant leg tattoos I can't wait to finish. One, the smaller, the client and I have titled "The Cosmic Mary" and the other is a full leg sleeve of three dragons! Life is lovely, I'm so grateful to you all!
Back home...
Well Detroit's Motor City Expo has once again come and gone and as usual I'm beat! Had a great time, got to catch up with some old friends, and got to make some new ones! If you missed your chance to get tattooed then please stay in touch because I'm sure to be back next year!
Next up is Hell City in Columbus, OH. I'm currently completely booked for this show however I will be doing a guest spot the following week in my former stomping ground of Lexington KY April 23rd through the 26th with my good friends at Charmed Life Tattoo. Space is limited for my stay so if your interested in a spot in Lexington then please email me ASAP.
theartofjoeking@gmail.com
Now, time to get back to the drawing board! Until next time...
InstaUpdates
Find me on instagram!!!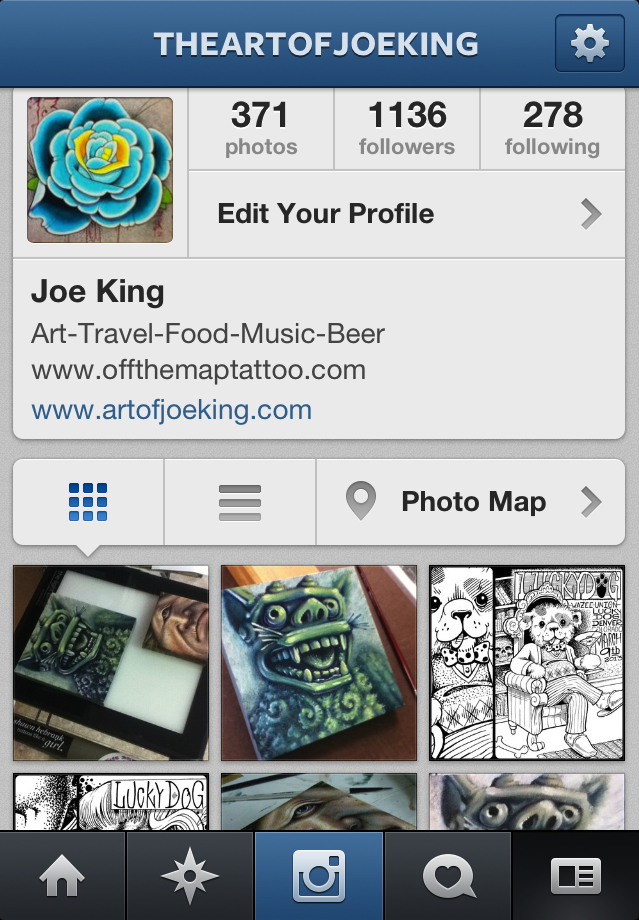 The best way to stay current on everything Joe King!
Download in the app store then search theartofjoeking in the user list.
The More You Know
Fraud in Tattooing
by Shannon Larratt
I've been talking to an old friend that's a tattoo artist who's pretty straight-shooting and no-bullshit in his attitudes about some of the trends we see among top artists these days. The one that I whole-heartedly agree with is this tendency to fill portfolios with pieces that couldn't possibly heal well, but look great fresh. Tattoos that look incredible the day they're done — bright color realism with almost no black-shading is a good example of stuff that often turns into a faded out nothing in time — but looks like garbage when it's healed. I'll quote some of what he said, keeping things anonymous because I'm not looking to point fingers here.
There is a very ugly tendancy today in tattoo business of taking pictures of fresh tattoos, doing realism that will look like shit in twenty years — or in four months even — and going from convention to convention, making 100% black money, with no touch-ups, no follow-up of clientele. Those are the most famous artists in the world. I have no problem doing tribal [edit: he is referring to an image I posted of a "less than inspired" tattoo that I spoke ill of] for people who ask. If I can't change their mind, I'll do it. It allows me to keep cool pricing for everybody, to keep tattoo art something it SHOULD remain, that is, a POPULAR art form.
You can build up a realistic tattoo that is stable — P*** A*** and J*** G*** can do it, so it's possible, but when you see older tattoos from D*** or S*** [edit: he's naming top artists here and I don't need another lawsuit], it's nowhere that impressive. As a matter of fact, the "convention" tattoo artists don't give a fuck, at least, a solid majority of them don't. When you work mostly in your shop, you see people again, and therefore you can't afford to mess up that bad. I would even say that *** *** Inks, as a whole concept, are just done for that — put in a single-pass easy color that will look cool till you're paid, took your photo, and took part in the "Best of Day" competition… but it's just the worst shit I've ever used. It's a whole culture that is taking over, and it's a shame, because everybody feels forced to adapt to it.
I agree whole-heartedly. Although I can't say whether "convention artists" doing these pieces that fail once they heal are willfully committing fraud when they fill their portfolio with fresh pieces that look nothing like the healed examples, but that is what it amounts to, intended or not...
To read the full article as well as many more related topics visit BME's MOD BLOG
The More You Know
By Anna Poplawska
As a yoga teacher as well as an artist, I am blessedly aware of the risks of repetitive stress injuries and very sensitive to the aches and pains caused by long hours of work. These concerns are echoed by Dr. Katherine Duvall, who is with the Health in the Arts Program (HARTS) within the University of Illinois at Chicago's School of Public Health. Whether it's the ballerina standing on her toes, the pianist hitting his keys all day or the painter gripping a brush, artists tend to place excessive stress on key body parts. This problem is exacerbated by the fact that many who work in the arts do not carry health insurance and, being in many cases self-employed, aren't covered by disability. Even a minor injury can be serious if it prevents them from working. On the other end of the spectrum is the artist who, preparing for a big show, feels that there is no choice but to keep going. In such a case, what seems like only a minor injury can become a career-threatening health hazard.
Because of these types of situations, much of the focus of Dr. Duvall's work focuses on education and prevention. Many of her suggestions are common sense. Artists who work with chemicals need to be certain that their studios are ventilated and kept clean, that containers are properly closed when not in use and that equipment is well maintained. She points out that good ergonomics is as much a matter of thought as expense. A comfortable chair and good lighting can go a long way. In addition, her concern extends to work habits. She suggests regularly scheduled rest breaks, which include some stretching. She's found the use of a timer particularly effective; otherwise artists at work generally find it easy to lose track of the time.
As a yoga teacher, I've been following this practice for some time and have become convinced that it improves the quality of my drawings by keeping my hand steadier. I might add that another thing that I found particularly useful, especially for my neck, was switching from working at the dining room table to working at a drafting table. I've also found a number of yoga-based stretches to be particularly useful. Try them and see if they work for you.
For the shoulders: Do the arms position of gomukhasana (cow pose) by reaching one hand up over your head, then bending the elbow so that the hand reaches down the back, while the other hand snakes up the back, elbow near the waist, palm facing out. Try to clasp the two hands between your shoulder blades. If you can't do this, then use a towel or yoga strap between your hands to pull them closer together. Then do it on the other side.
For the hands: Place your hands together in namaste (prayer position) behind your back, as high as possible; try to get them between your shoulder blades. This is very soothing for the hands after a couple hours of work. A pair of Chinese exercise balls also work well. These smooth solid balls stimulate energy meridians when manipulated in the palms of the hands. They can be purchased inexpensively at Relax the Back Store at 1925 N. Clyburn Ave. or at most oriental gift stores. You can also try doing some wrist curls with a light weight.
For the full article and many other gems of knowledge go >HERE<
time keeps on slippin
Well a week turned into two so I'm a little behind on updates however the submissions for the Lucky Dog Art Show are complete, sent, and uploaded to the art archive for your viewing pleasure! Aside from that I've reignited my love for oils and busted out two new mini paintings that I'll have for sale at the Detroit Motor City Expo next week. I'll throw up some pics of those in the next couple days.
Been feeling really inspired and alive lately. Surrounded by great people and challenging art....life is good! Thanks to all who contribute!
word
"Mystic Art exudes spiritual nectar, luminous food for the soul.
Busy eyes taste the nectar and return for sweet nourishment."
Lucky Dog
I'm thrilled to announce my involvement in the "Lucky Dog Art Show/Funraiser" March 9th in Denver Colorado!!! Including my self 11 artists will be producing 2D media in the format of "gig posters" for the event in order to raise funds for a no kill animal shelter in Denver. I've decided to do two pieces for the show and I'm about half way through them both. Since I've still got around two weeks before deadline I'm gonna buckle down and put in as much time in as possible before I post anything, but expect to see at least one by next week.
I love doing shows like this, just enough structure to produce a coherent display but not limiting in regard to subject matter. time permitting I definitely would like to get involved in a few more art shows this year. If your hosting an event and need artists please email me at:
theartofjoeking@gmail.com
UPDATES
New projects are in the works! Not much time to cover everything at the moment so I'll just throw out a couple of the big/close ones and cover each in detail for the coming week...ish.
-Benefit art show in Boulder, CO. This will be my first none tattoo related show in over 10 years! Very excited to be included in this!
-I'll be interviewing one of the industries best and brightest for TattooMachinesNow.com! I'll be sure to give updates as this develops!
-More Video!! A few different ideas are brewing so expect much more sweet digital video goodness in the coming months!
-Travel. travel, travel! Most pressing of which is the Detroit Motor City Expo NEXT MONTH! Also, additions to the list including Oregon and California later in the year.
-MORE TATTOOS!! it's been almost a year at Off The Map Tattoo, and that means I'm finishing up a lot of larger work, as well as, establishing a wider clientele base that want the kind of tattoos I do best!
Like this one, for instance. A fun illustration of a mushroom, I could do nature tattoos all day!
Check out the new pieces in the gallery then come see me at:
Off the Map Tattoo
112 Cottage St.
Easthampton MA.

413-527-6574

theartofjoeking@gmail.com
gratitude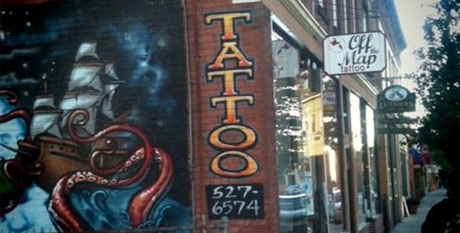 Hard to believe it's been over a year since I first traveled to the north seeking a new life at Off the Map Tattoo. I'd like to take a moment and thank the crew for taking me in and making me and my wife feel like part of the family. It can be very hard to start new, especially when so far away from the ones you've loved but had to leave behind. Looking back at the move that seemed a near impossible task, I don't think I could have made it without the enriching atmosphere, inspiration, and all around kindness that these people provide.
So to all the Off the Map staff, thank you! You make it easy to love life and wake up inspired!
Now, time to create!
word
"...knowledge is a hindrance when it has become a tradition
which shapes or conditions the mind to a particular pattern."
returning to paradise...
The Paradise Tattoo gathering last year in Keystone Colorado was by far one of the most artistically invigorating experiences of my life. Anyone thats spent any time with me since then has heard all about it... repeatedly! Keystone it's self is an absolutely gorgeous place; every day of the event was like waking up in a postcard photo! Surrounded by mountains and my artistic heroes I was able to learn information I'm still processing and gaining deeper understandings of today. This year, Paradise returns to Keystone to once again ignite the fires of creativity and inspiration! Check out this awesome recap video by the one and only Richie Bulldog of Hustle Butter!
If you have any interest in attending Paradise, then don't hesitate, get you tickets now!!! TATTOOGATHERING.COM
If attending and interested in getting tattooed please email me a brief description of your tattoo idea as well as your contact information ASAP:
theartofjoeking@gmail.com
"It was amazing and I can't say enough about it. I am literally blown away.
There just might be hope yet for this craft of ours, even in the midst of so much chaotic change."
-Crash, Tattoo Artist Magazine
"This curating of tattoo talent is a key component of Gabe Ripley's events.
You can't get a bad tattoo at Paradise. Another component is community --
that friendly, laid-back vibe throughout the show where you feel you are a part of something..."
-needlesandsins.com

"The Paradise Gathering was just the boost I needed.
It was amazing to know that this idea of positive change, not only could work, but was already happening."
Ink Slinger's tattoo magazine article
Check out the huge 20 page spread in the newest issue of Ink Slingers Magazine on Off the Map Tattoo! SO much tattoo goodness it will surely make your pee fall out!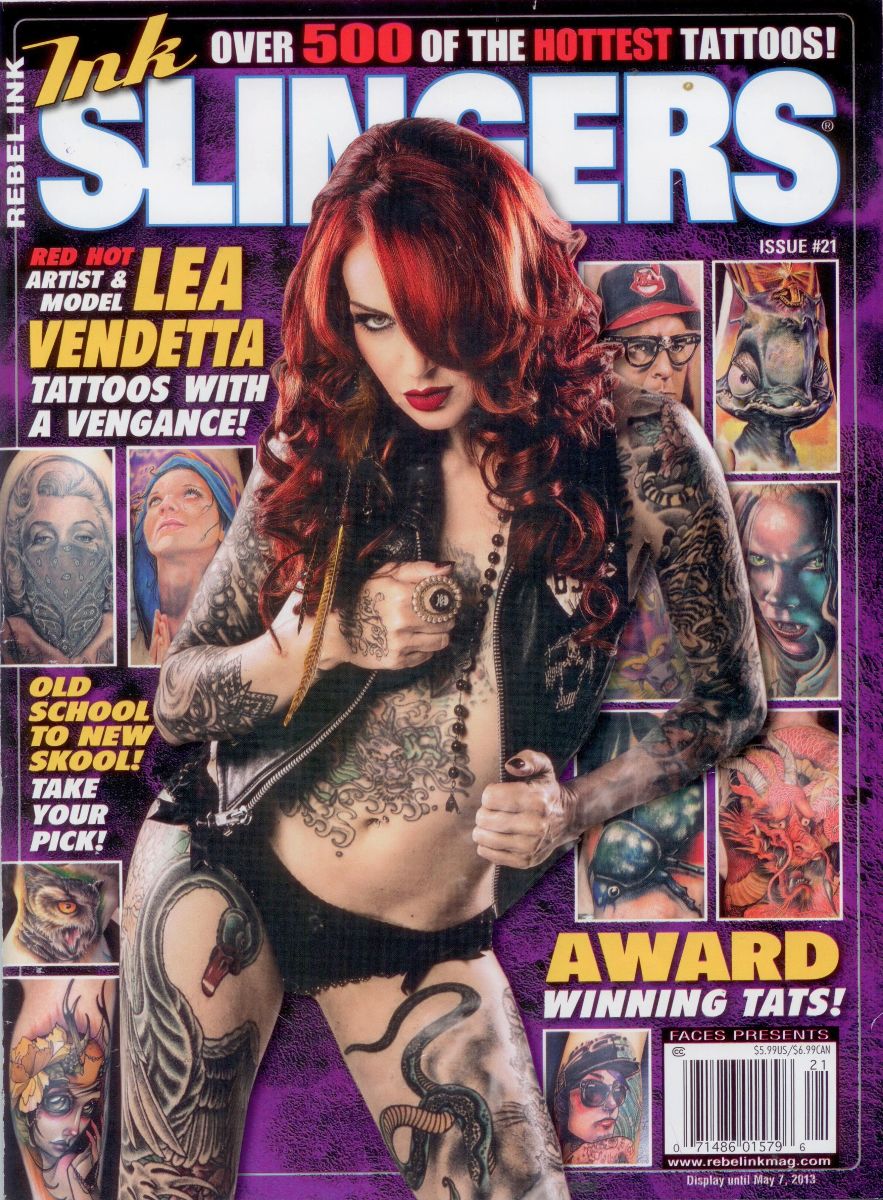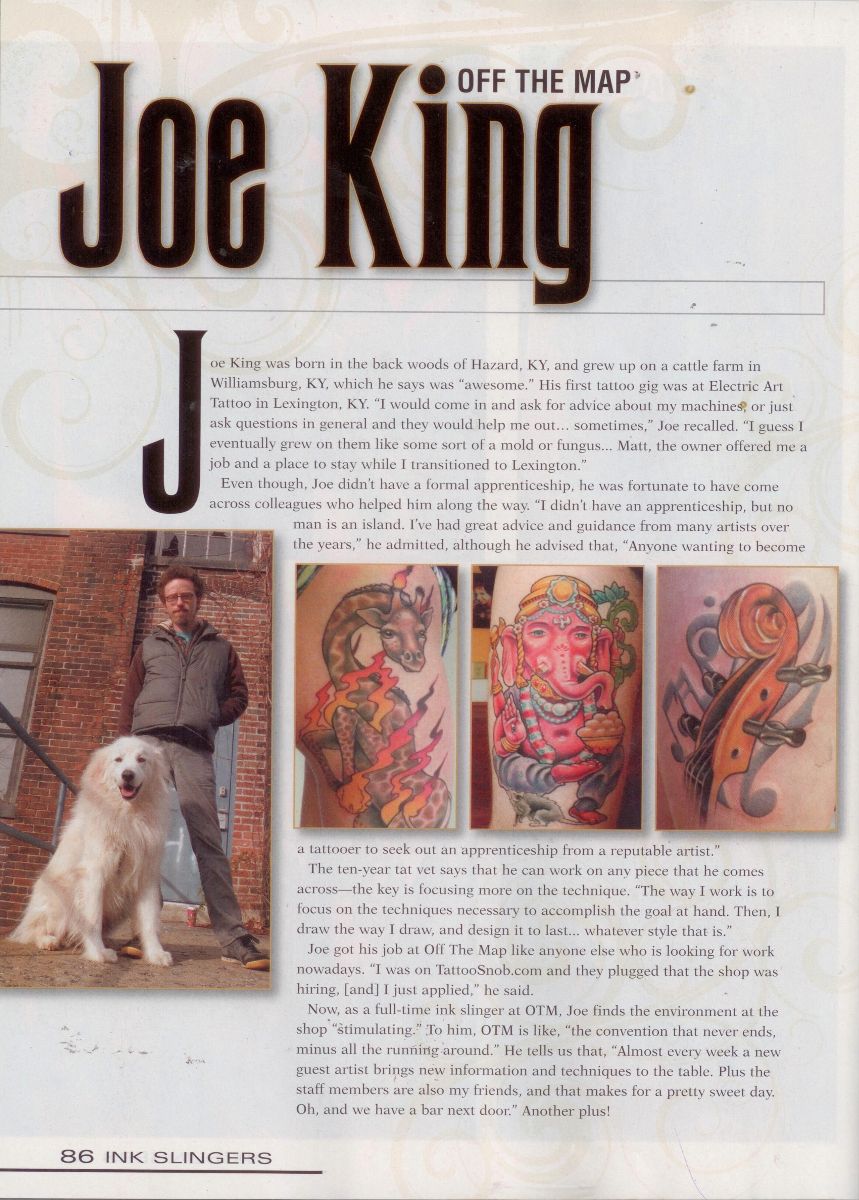 work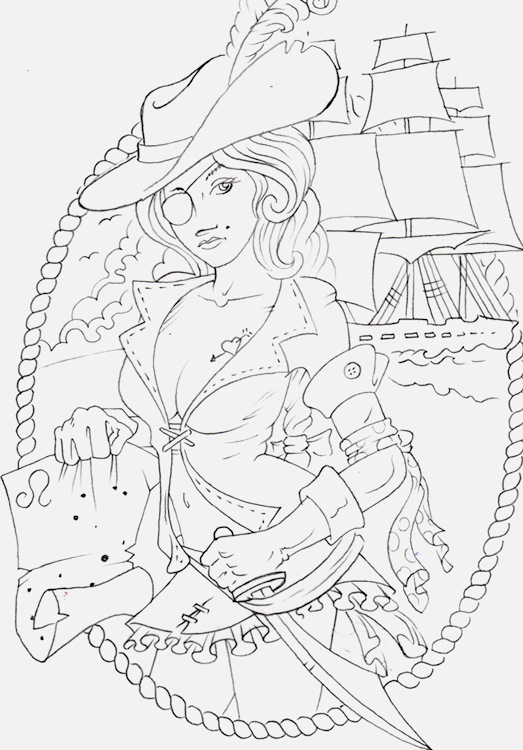 Today I get to lay the black work in this Pirate Queen I outlined a while back! Fun times are at hand!

I'm always excited about figure based designs. To me figure based imagery tells a story that the viewer can understand or even relate to. Plus, it allows me to try and show mood through expressive faces and body language, ultimately creating an atmosphere and achieving the most visual impact possible. That's what it s all about, getting/giving the best tattoo possible!

If your into large scale tattoo work like sleeves, back pieces and rib/thigh panels, featuring the human form as your central figure then please contact me at I'd love to hear from ya!

Off the Map Tattoo
112 Cottage St.
Easthampton MA.

413-527-6574

theartofjoeking@gmail.com
The Road
DETROIT!! Man do I love tattooing at the Motor CIty show. It's been two years since my last visit, which of course was awesome, and I've been eager to get back ever since. Hosted by Eternal Ink, the Motor City Tattoo Expo is in its 18th year and taking place at the architecturally excellent Marriott Renaissance Center. As an added bonus the Detroit Institute of the Arts is just a couple miles away! The DIA houses rotating collections of some of the worlds most exquisite paintings, sculptures, and artifacts ever created. It's an awe inspiring place to say the least!
I'll be taking walk ups only for this show so if you would like to get tattooed come see me in the Eternal isle!
See ya soon!
TCM in review...
Tattoo Culture Magazine provides a wide-angle view of the tattoo world I know and love. The one filled with vibrant, intelligent characters with a zeal for life and the type of artists built with honesty and humility. TCM's mission is obvious; it seeks to stimulate the industry it serves rather than leech off of the hard work of dedicated artists. Best of all, they've done so in a way that speaks to both the artist and the collector on a level field, with a message of balance and unity.
The great people of Tattoo Artist Magazine, a trade journal for artists that has a superb reputation for quality printing and engaging journalism, bring us this new publication. Tattoo Culture Magazine bridges the client-artist gap, creating a spark that ignites something a bit brighter for the tattoo world, our personal communities, and ourselves.
Editor Crash introduces the inaugural issue, with an empowering "call to arms" to the greater tattoo world and beyond. It immediately unfolds into an honest and inspiring interview with Jeff Gouge. Continuing on, TCM is littered with amazing tattoos and paintings while showcasing inspiring photographers, musicians, and collectors.
As you read further you find that these aren't run of the mill interviews and pointless filler articles. These are real topics, approached with conviction and intelligence. Nick Baxter's article challenges the readers to take hold of a better way of being, and Mike Rubendall not only shares his experiences as a tattoo artist, but also his approach to a healthier lifestyle. TCM then provides a brief section on yoga and examples of different postures to further encourage its readers towards a healthier career and lifestyle.
Do yourself a favor, go to the website and subscribe! This is already something to be proud of and it's only the beginning!
let's review...
Today life is presenting me with a couple firsts in the form of product review. I've never done an actual review before, I've definitely spouted my half assed opinion, many times, but never a full on analytical statement. Fortunately I care about/believe in both products so this should go pretty smooth!
The first is just for tattoo artists, a product that in a relatively short period of time I've grown to really love and am honored to support. The other is for everyone! An upcoming publication geared toward both the artist and the client in the hope of creating a better industry and a better future. So, after a "cover to cover" and a long session of typing and retyping, as to not sound like an idiot, I'll post them here for you the hungry online public; that you may be filled with a 'knowledgy' goodness and the lingering aftertaste of quality tattooing!
Word
"I have a strong belief in art, a certain faith
that it is a powerful current that carries a man to a haven,
although he himself has to put in an effort too."
-Vincent van Gogh 1883
expansion pack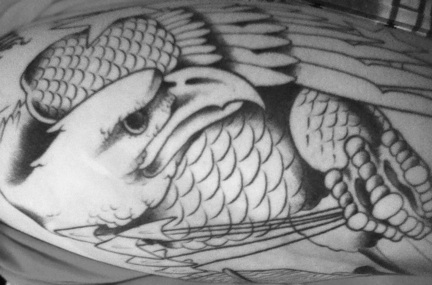 little preview shot of the eagle for the America themed sleeve.
Personally, this is my favorite way to approach a sleeve. All focus is on objects that represent the idea. Then you make 'em big and bold! Can't wait to get into color!
But before I do that....EXPANSION! I've been given the green light to go full sleeve on this one. (including half chest) So, in order to achieve a balanced color scheme and overall composition I'll be designing the rest of the arm first and bringing those pieces to their foundation stage like the eagle above. A sleeve can be a long road if rushed so I'm thankful for my clients patience for the process. Be on the lookout for updates on this lil' gem throughout the year!
"Mommy, where do tattoos come from?"
Dude comes in and says "I wanna get a full sleeve for America!"
"Cool, what kinda stuff you want in this sleeve to celebrate these great states?"
He leans back in his stance and peers into the heavens because, as we all know, that is the spot to look when you have no clue what to say next. "Don't know, what'cha think would look good?
I pause for just a moment, not long, a speck in the great sands of time. But, long enough to peer deep into my collective experience in the ways of tattooing and choose my words with the utmost care and precision. And just before I reply I review my thoughts one last time to polish the yet to be spoken words with what was nothing short of literary excellence! "An eagle dude! A huge, badass eagle looking like a total hard ass!"
Moved by my speak he exclaimed "Agreed!" Then we threw up some metal horns, gave a righteous high fives and I went to town manifesting the coolest eagle the world has ever seen!!
at least thats how it played out in my head…
Today the saga continues! I threw a liberty bell in for the inside of the arm and I believe I'm gonna lay some black foundation on that today but the eagle should be ready for some quality WIP shots that I can upload on here tonight.
Thanks for tuning in!
Comic Relief
on the schedule today: a freehand rendition of Image Comics hobo/hero The Maxx! Now I'm always gonna prefer to do my own art but, if I have to reproduce something I love when that something is the art of comic books! To me comics are at the center of how I try to draw and tattoo, not to mention they're the core of my childhood! Needless to say, today is gonna be fun!
If the exploits of illustrated heros and villains tickle your fancy and you would like to permanently mark your canvas with such scenes, please, get in touch. I would love to hear from ya!
112 Cottage St.
Easthampton MA.
413-527-6574
theartofjoeking@gmail.com
The past couple months brought much change to my world. They forced me to analyze a lot of the....messy topics that we are subject to cross at one time or another. Without divulging to much of my personal life I'll at least say this, the end of 2012 was profound. Maybe not in a globaly apocolyptic way but for me at least, the limitations and inevitable endings of mortality were made very clear. The important things of this life were brought to light, and imbalaces that can impede were brought into focus.
And now, the year is NEW!
With a new year comes new ideas, new travels, and MUCH more art!!! First up is the Motor City Tattoo Expo in Detroit MI. If you would like to book in for this event Please email me with a description of the tattoo you would like to receive and your contact info ASAP. Detroit is always a good show so if your in the area stop in and say hello! After that (March 25th-28th) I'll be heading of to New Mexico for the Paradise Artist Retreat to enjoy four days of inspiration, learning, and creating alongside artists such as:
Alex and Allyson Grey, Guy Aitchison, Shawn Barber, and MANY more! This is a one of a kind learning experience for any artist and should not be missed! For ticket information visit paradiseartistretreat.com.
I'm very excited for this new year to create and experience as much as possible with you all.
2013 Travel
This just in!!! I will be tattooing at both the 18th Annual Motor City Tattoo Expo in Detroit, MI - Feb 22nd-24th, 2013 and Hell City Tattoo Fest in Killumbus, OH - April 19th - 21st, 2013!!! If your interested in getting tattooed at either of these shows please email me a brief description of your tattoo and I will get back to you ASAP. 2013 is gonna be fantastic!
don't blink
Time just keeps whizzing by! Seems like just yesterday I was immersed in the beauty of Keystone, Colorado having my artistic eye squeegeed clean by my heroes in the tattoo and art communities. I am so grateful for the experience, fellowship, and inspiration! The Paradise Tattoo Gathering is one of a kind and should not be missed!
I really don't have much to report (hence the silence) at least nothing I can articulate at this time…I can say this however. With great inspiration comes great change. A shift is on the horizon…be excited for the future friends, I certainly am!
InstaUpdates
As I mentioned before, I'm on Instagram!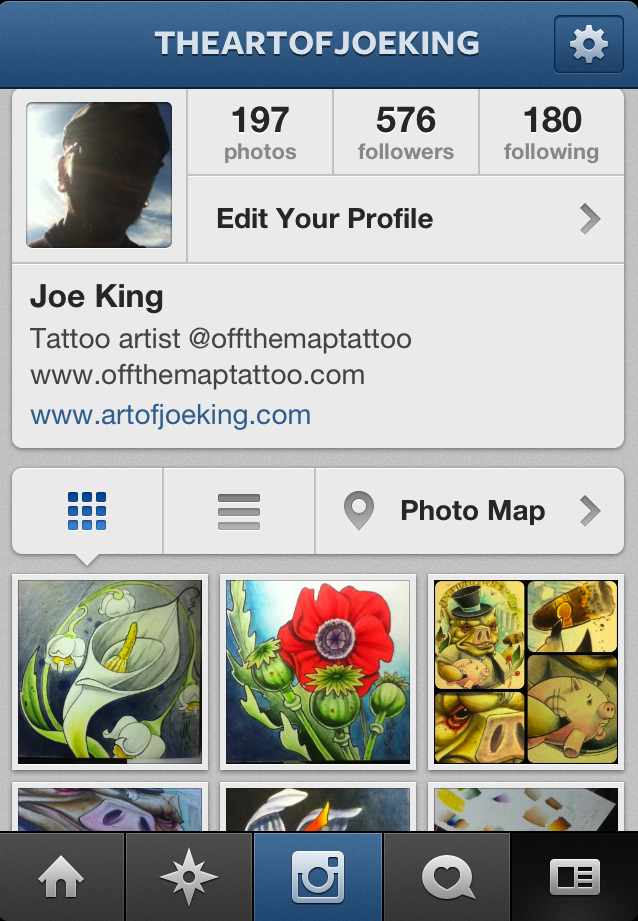 Find me @theartofjoeking and watch all the art and tattoo designs you see on here unfold in real time!
The Pig Sty
in 1492 Columbus sailed the ocean blue...that was the first time the new world was introduced to pigs. Seemed harmless enough, they were just pigs. The problem is that the pigs stayed and evolved into the filthy, grotesque creatures we know and fear today. These swine are everywhere, and own everything....
Personally I'm tired of it! I can't do anything without having to go through a filthy pig first! I would love to buy a home but I sure as hell don't wanna be in the pocket of a banker pig! The government is simply crawling with this infestation. They even have em' patrolling the streets to make sure we don't step out of line! And don't even think about leaving, those border pigs are ruthless! It would be so nice to be able to spread the word, but it seems that the media is filled with pigs as well.
It's time to act! Introducing tattoo series #3
"The Pig Sty"
If your tired of living in a pig sty then help me identify the characters. I'll do up the permanent propaganda poster and you carry it proudly from town to town showing everyone you cross until one day our tiny voices are loud enough to lead these pigs to slaughter!!!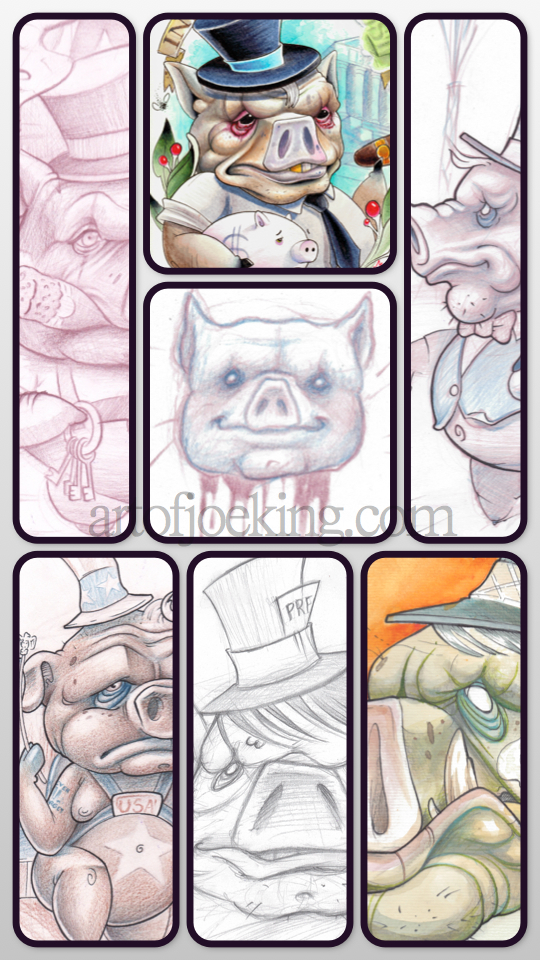 As you can see iv'e done up a couple sketches to get the ball rolling but I'm really looking forward to your ideas! If you wanna join the movement contact me at:
Off the Map Tattoo
112 Cottage St.
Easthampton MA.
413-527-6574
theartofjoeking@gmail.com
And remember, the only good pig...IS BACON!
The Royal Garden
If you follow me on instagram ( @theartofjoeking ) then you are well aware of the fact that I have been teaching myself to use markers and doing so in a series flowers. If you don't follow me on instagram then please, take a moment to use the context clues provided and bring yourself up to speed.
In regard to these flower designs I've decided to use them for the second tattoo theme. The subversive theme I mentioned in an earlier post is still in the works, just needs a bit more time. So until then, I present:
"The Royal Garden"
Pretty simple really, if you see a flower you would like to get tattooed…Book it! After the tattoo is completed the corresponding piece of art is yours to keep! (i'm also thinking of another little goody to throw in there as well) And of course, just like any other piece in a proposed series, all pieces will be documented in detail for future publication.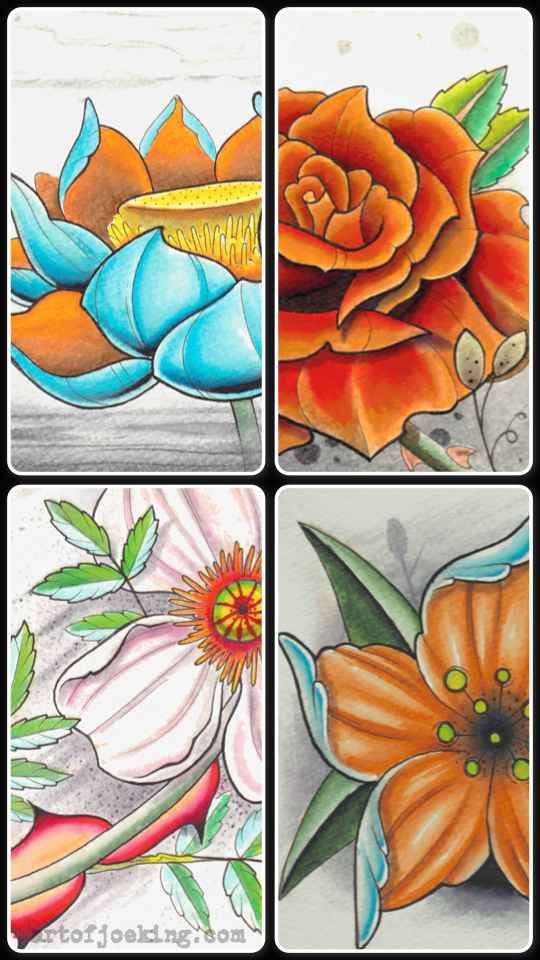 Well, there ya have it! Look through the garden, if you want to pick a flower for yourself or a loved one please contact:
Off the Map Tattoo
112 Cottage St.
Easthampton MA.
413-527-6574
Chiggity Check It!
The nautilus tattoo is all healed up and lookin smooth!
I love doing stuff like this!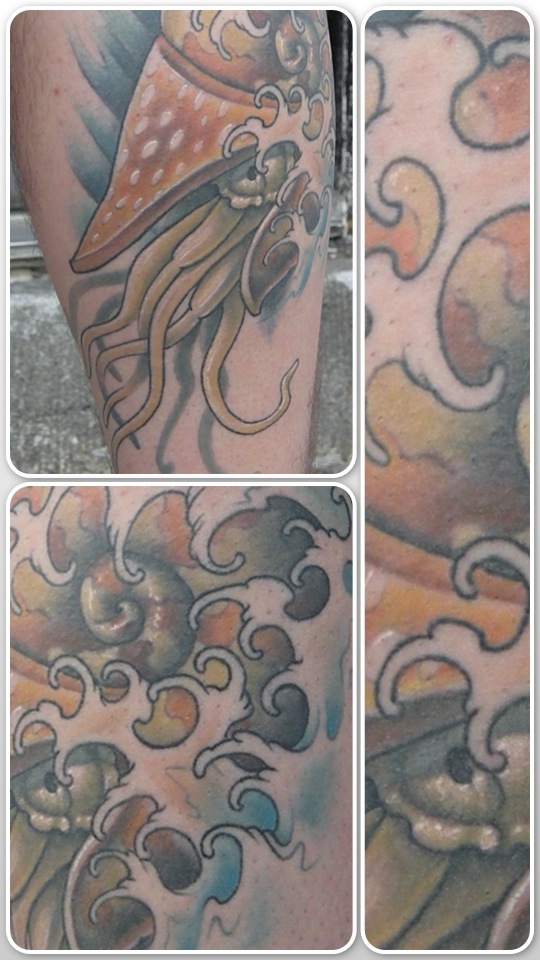 teaser
I'm a little off schedule on my updates but these things happen. Been a crazy couple weeks! Aside from turning 30, I have overcome my addiction to cigarettes. Starting to feel like a new man.
Production has been high, new oil paintings started, large custom tattoos in progress and on the books, a new tattoo theme created to "stick it to the man", travel plans are just around the bend, and soon fall will overtake New England...
Stay tuned. The next transmissions should be exciting!
king size
today began the process of a body suit.
Two samurai shall battle for the blessing of the tiger...the winds shall be strong...intentions dark. The color of the flowers will be the only beauty on that day.
along with the jellyfish backpiece, this is shaping up to be a good year!
Who's next?
the living gallery
things are good. art is moving. people are happy.
I'm gonna try something a little different now. I would like you all to participate.
Sometimes, I feel, the tattoo consultation process can be a little rigid. It seems that as a client it's easy to get overwhelmed by the near limitless possiblities surrounding the choice of "your" tattoo. What if, as the artist, I were to throw out the framework for a tattoo?
Or suggest a topic that most people can relate to, but in their own personal way.
For instance, the first topic I'm presenting (there are many) is titled: "Till Death Do Us Part". This series focuses on the passions of man; the journey of life. For myself this would be art, the thing that drives me, inspires me, and excites me in a way that no other task on this planet has come close to doing. A romance that continues untill the day I die. The only finish line. The images in this series will depict the tools of the clients passion/trade coupled with the human skull.
This could be a very unique tattoo experience.One, I believe, that has potential to evolve into many interesting directions. However, it all depends on you, the client. What do you love? What inspires you?
I have some ideas for presentation a bit further down the road (Info on the client and their tattoo...book perhaps?) For now let's explore this idea of a living series of art.
I'll present a new topic in about a week...
If inserested in participating in the
"Till Death Do Us Part" tattoo series email me or stop by:
Off the Map Tattoo
112 Cottage St.
Easthampton MA.
I look forward to seeing what we come up with!
Up and running!
Phase one of the website is complete! world domination is at hand....on another note, here is the first bit of news! (and it is good)
It's been beautiful in easthampton! I've been settled in at Off the Map for a couple months now and I've gotta say... New England is my kinda place! I'm thrilled and honored to be here. Clientele have been fantastic and I've started some really big/fun pieces. tomorrow I hope to finish a nautilus I started a while back on this guys calf. Should be fun times! (well for me anyway...)
ArtofJoeKing.com Is LIVE!
Joe King @ Off the Map Tattoo now has a TattooNOW template website. Stay tuned for Joe's custom designed website in the near future!